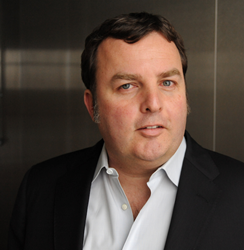 HasOffers' wild growth and success in the market makes it ripe for fast global expansion - Ralf Hirt
Seattle, Washington (PRWEB) February 23, 2014
HasOffers, the industry standard in attribution analytics, is proud to welcome Ralf Hirt as Chief Revenue Officer. In this role, Ralf will focus on US and international expansion as well as business operations and strategy.
Ralf responds to joining:
"HasOffers' wild growth and success in the market makes it ripe for fast global expansion. It fills an extremely unique position as an unbiased 3rd party and pure technology play -- really helping to scale this evolving mobile ecosystem. I see so many of the early indicators that I saw at DoubleClick here, and I can't wait to bring more scale and operational strength to what are already phenomenal products."
Ralf most recently was with Glam Media, the #1 lifestyle media company in the US, where he filled the role of Vice President of Global Business Development. Ralf helped to grow the company from 50 to over 500 employees including a significant international expansion effort which ultimately became a major revenue stream for the company.
Prior to Glam Media, Ralf spent nine years at DoubleClick in the US, Europe, and APAC. As Vice President of Operations and Strategic Partnerships, he helped lay the foundation that led to the acquisition of DoubleClick by Google for $3.2 billion.
MobileAppTracking by HasOffers quickly made a name over the last two years as the standard for mobile attribution by supporting the the mobile ecosystem's smartest mobile app developers and advertisers while also deeply integrating with over 375 mobile advertising partners. If mobile advertising is a gold rush, then HasOffers is providing the shovels. Their transparent approach empowers advertisers with insights on life-time value, retention, and multi-touch attribution while unbiasly reconciling campaign attribution across channels and partners.
HasOffers continues to grow profitably, more than doubling their team in 9 months to over 145 people across 4 offices (Seattle, San Francisco, London, and Tel Aviv). They have kept the $9.4M in investment from Accel Partners in reserve, while maintaining a focus on providing the best attribution products for mobile marketers.
Rich Wong, Accel Partners and HasOffers Board Member
"It has been an exciting ride to be part of the accelerated growth of HasOffers, while becoming a strategically important pillar in the ecosystem. I believe Ralf has that right combination of experience and strategy to take the company to the next level."
Micah Gantman, VP of Business Development and Operations
"Ralf's a pro. His experience aligns well with the growth expectations we have over the next few years. This is a very exciting time for HasOffers, and his contributions to the team should prove to have an immediate impact."
HasOffers is eager to leverage Ralf's operational excellence and strategic expertise as they continue their growth in the US and focus on expansion amongst key markets worldwide.
Peter Hamilton, CEO of HasOffers
"In light of all the many shifts taking place in mobile advertising right now, it has been amazing to collaborate with someone of Ralf's caliber. He has been through all this and more in a previous life, and I have really enjoyed working with him even before his official start date. I have so much confidence in his smart and steady hand at the wheel of our business growth."
About MobileAppTracking by HasOffers
MobileAppTracking.com (MAT) created by HasOffers, is the industry standard platform for mobile app marketers which unbiasly attributes app installs, in-app engagement, and purchases back to marketing sources (such as social networks, publishers, and mobile ad networks). MAT is integrated with over 375 major ad networks and publishers including Google, InMobi, Drawbridge, and others. It has been named the 63rd fastest growing company by Inc 500, backed by Accel Partners with Rich Wong, and has 145 employees across four offices worldwide, with headquarters in Seattle, WA. Learn more about the product at http://mobileapptracking.com/ or the company and it's original product at http://www.hasoffers.com/about.
The team will be at Mobile World Congress in Barcelona, Spain from February 24 - 27, 2014. Visit them at stand 8.1J34 or email sales(at)mobileapptracking(dot)com to schedule an appointment.