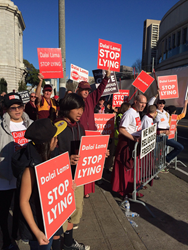 We do not ask that he likes our religion but that religious freedom should apply to all traditions whether he likes them or not
(PRWEB) February 23, 2014
Demonstration Dates and Times:
Sunday, Feb 23 – Berkeley - Berkeley Community Theater 7.30am – 11am
Monday, Feb 24 – Santa Clara – Leavey Event Center, Santa Clara University 7am - 12noon
Tuesday, Feb 25th – Los Angeles - The Forum, Inglewood 11am – 2pm
The Dalai Lama is watched by a crowd of greeters whilst in an animated exchange with a peaceful Buddhist Shugden nun, as she asked for religious freedom for Shugden people while handing him a leaflet as he left the Ritz Carlton today. As his private security urged him to leave the conversation, the Dalai Lama returned to address the nun directly, while shaking his finger at her and saying that this was not a matter of religious freedom as her practice was not a religion. http://www.youtube.com/watch?v=Kd00Jbd3jFY.
The San Francisco streets around the hotel were blocked off for more than 20 minutes as his motorcade took him to the Davies Symphony Hall where he was to speak, and was then met by more than 200 Buddhists including monks and nuns protesting loudly and continuously. The demonstrators held large signs and chanted "Dalai Lama give religious freedom" and "Dalai Lama stop lying".
Spokesperson for the International Shugden Community, the group organizing the demonstration, Len Foley says "We do not ask that he likes our religion but that religious freedom should apply to all traditions whether he likes them or not. This is our only point. Why is this so hard for him to agree with? As a powerful leader he must implement a policy of religious freedom and non-discrimination for all."
International Shugden Community protestors have stated that they will continue to demonstrate against him at all his events until he publicly agrees to allow equal rights and religious freedom for the Shugden people.
More information at http://www.falsedalailama.com
Find press updates and press pack at http://www.falsedalailama.com/press
Password: press1