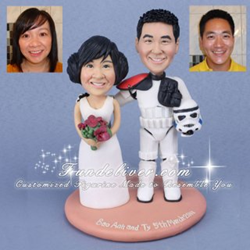 (PRWEB) February 24, 2014
Recently, FunDeliver.com, a leading online store that offers various kinds of toppers, has unveiled its new funny wedding cake topper assortment for worldwide clients. The CEO of the company states that all its products are available at low prices now.
FunDeliver.com aims to be a one-stop platform of unique gifts. The company understands that everything should be perfect in a wedding. Therefore, its top experts always make every effort to create the best toppers. Its affordable funny wedding cake toppers are popular in the global market.
Among all the special items which are provided by the company and reviewed by the global customers, a few names remain on top of the list: star wars wedding cake toppers, Mario and princess peach wedding cake toppers, holding hands bride and groom cake toppers and so forth. Customer reviews have shown that the wonderful products from FunDeliver.com are works of art.
For additional information, the company focuses on both the final products and customer design process. It shows respect to all traditions. For ladies who don't want to show the final figurines to the bridegroom ahead of the wedding, its experts will take some effective actions. Usually, they send the bridegroom a special sketch in which the bride's wedding dress is blocked with Mosaic.
About FunDeliver.com
FunDeliver.com is an experienced manufacturer and retailer of funny wedding cake toppers, figurines and personalized gifts. All its products are 100% carefully handmade by skilled workers according to the customers' specific needs. The reason to choose FunDeliver.com is very simple: the company is always striving to make fun and unique items at affordable prices. More details at: http://www.fundeliver.com/.