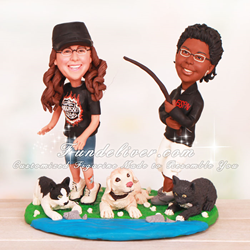 (PRWEB) February 25, 2014
Recently, UniqueWeddingCakeToppers.com, a well-known online store for special toppers, has announced its new range of wedding cake toppers. Furthermore, the company will release its fishing wedding cake topper collection in the near future.
"We are proud to unveil our new toppers. If you want to make your wedding more interesting, you should visit our website. All our products are well designed for the global fans. All our products are offered at low prices. We hope to expand our online market in a short time," the CEO of the company says.
There are more than 50 items in the company's brand new assortment. All of them are featured with unique designs, vivid looks and delicate craftsmanship. Plenty of the worldwide customers are extremely happy and satisfied with their cake toppers. The company's kind and professional experts will work with the purchasers until the items are what they want. Great attention is paid to all details of each topper.
UniqueWeddingCakeToppers.com's mission is to make all weddings memorable by offering super toppers. For newlyweds who are interested and hesitated at the same time, the company offers free 2d sketch designing. What they need to do is only sending it their love stories and wedding ideas.
About UniqueWeddingCakeToppers.com
UniqueWeddingCakeToppers.com is a famous online supplier of vivid cake toppers for weddings, birthday parties, going away parties and many other events. With an aim of making the events more interesting and memorable, the company often offers great savings on its special products. At its online store, customer satisfaction is among the top priorities.
More details about its funny items can be found at http://www.uniqueweddingcaketoppers.com/.