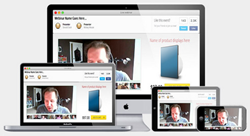 It quickly became clear that Webinar Jam does everything you wish Google Hangouts could do out of the box.
San Diego, CA (PRWEB) February 24, 2014
Newly released software, Webinar Jam, lays claim to the best all-in-one solution for businesses utilizing webinars for customer engagement. Built upon the Google Hangouts service, Webinar Jam brings a variety of much needed features to the already popular platform. While big headliner products such as Webinar Jam are known to attract a lot of attention on the forefront, the question in everyone's minds is if this new Hangout add-on is a good buy or if it will soon be hung out to dry.
Billed as add-on software for Google Hangouts, Webinar Jam aims to take the functionality of this platform to the next level and make it the new go to choice for online meetings and discussions. When we spoke to the creator of this software the intention behind its conception was revealed: "Google Hangouts has proven to be an overnight success, with many happy users. However we felt there were some areas where it could be improved, this sparked the creation process of what is now known as Webinar Jam."
Software creators Mike Filsaime and Andy Jenkins, who have become well known from past products like the Evergreen Business System and Kujabi, tout Webinar Jam as a much better alternative to GoToWebinar, and perhaps for good reason. GoToWebinar features a steep annual commitment starting just shy of $1,000 and actually limits the number of participants – a pesky restriction that its Google Hangouts counterpart does not place on its users.
Leveraging the functionality and flexibility of Google Hangouts is a smart move. However, if Webinar Jam cannot set itself apart with its own standout features, then it may just be another guru's scamp attempt to cash in on an already successful service. Investigative analyst and software specialist Josh Adams led a team review of Webinar Jam to set the record straight.
Upon initial testing, Josh stated "It quickly became clear that Webinar Jam does everything you wish Google Hangouts could do out of the box. Not only do the extra features make hosting a webinar more effective, but they also greatly improve the experience for those taking part in them."
Standout features included the ability to instantly create webinars which can be started immediately, as well as having the option to schedule them for a later date. For scheduled webinars, the service includes the ability to send out email or SMS notifications to registered participants. Also proving popular with reviewers was the ability to co-host a webinar. "Being able to add up to 10 co-presenters to a Google Hangout was something we found really valuable. While in most cases we would probably only use one or two additional hosts, being able to run a joint-venture webinar was very appealing" said Adams.
The inclusion of a number of point-and-click templates for creating the registration pages for the webinar was another useful feature emphasized in the review. Getting attendees to sign up to a session can prove tricky for some events, however the reviewers stated that the bundled templates can help overcome this obstacle. "As well as the included registration templates, the ease with which custom templates can be integrated with your own blog was great. Attendees can now sign up to your Google Hangout-powered webinar right from your own blog or website," a member of the review team explained.
When it comes to value for money, reviewers were also quick to praise the pricing structure put in place. "The flat fee is something that will genuinely appeal to those who are serious about growing their audience and their use of webinars," said reviewer Chase Matthews, referring to the decision to charge a one off fee for unlimited webinars with unlimited attendees. "Instead of charging users more as they become more successful and draw greater audiences, with Webinar Jam, it doesn't matter how big your hangouts get, as it won't cost you a penny more."
This any many other features make using Google Hangouts even easier and more powerful for webinars, and a 30 day risk free trial makes this software a very attractive new option.
To find out more about the service and to see a full list of software features, readers are encouraged to visit the official Webinar Jam homepage.