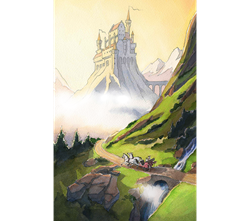 The prince was astonished to see that ahead of them there was a castle rising above the clouds. It was the most majestic sight he had ever seen, even more fantastic and ornate than the pictures of castles that he had seen in books.
(PRWEB) March 13, 2014
Journey with author Ellis Pier through Six Seasons of a lifetime, and uncover words to accompany you as you travel through your own six seasons. Follow kings and countrymen, wizards and wise men, as they discover that the secrets to a good life lay more in unconditional love, destiny, sacrifice, simple actions and sharing one's good fortune—than in wealth, power and the usual trappings of success.
Enclosed within this small golden volume, you will find six original and entertaining stories — fairy tales — each with its own hidden gem of wisdom and gift of learning. Together, the tales offer core ideals and values that will become a guidebook for your voyage through life.
The words contained within this volume are words to live by, to read and re-read, to share and discuss with family and friends. Six Seasons is sure to become one of the most beloved and well-worn books on your bookshelf, and all who read it will recognize the wisdom and resilience that comes with age, experience, love, and a life well-lived—that life can be a fairy tale indeed.
Free Kindle Giveaway: March 27 to March 28