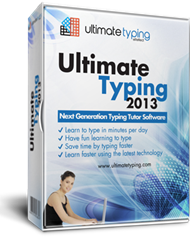 ... people's finger muscles actually know more about typing than their eyes do.
New York City, NY (PRWEB) February 26, 2014
Typing fast is not a matter of endless typing practice but of strategic, smart training, eReflect reveals. In the latest blog post at the Ultimate Typing™ blog, the company reveals three facts about typing that are sure to surprise even typing experts.
One of the lesser known facts about typing is that people's finger muscles actually know more about typing than their eyes do. The argument that a person's fingers can locate a specific key much faster than their eyes has been put into the test by a study performed by Japanese and American researchers. The study's findings confirm that indeed people's motor skills allowed them to type the list of words provided to them in a fairly short time, but when they were asked to point out where each individual letter is found on a QWERTY keyboard, they couldn't spell out the words like that nearly as quickly. This finding comes as no surprises to neurobiologists who know that the brain transposes key-finger correspondence knowledge from eye to muscle movement control. What this means is that after mastering touch typing people are able to touch type almost unconsciously, without compromising their typing accuracy or speed.
Another interesting fact Ultimate Typing™ shares with its blog readers is that there's actually an International Typewriter Day that celebrates the charm and usefulness of the classic manual typewriter. Many people have been known to develop a deep connection with their typewriters, especially authors and would-be novelists. No matter how sleek and ultra-cutting-edge new laptops and keyboards become, nothing seems to compete with the feel of typing away on an Olivetti typewriter. International Typewriter day is the 23rd of July.
The third and last little known fact about typing eReflect reveals is the name of the person who holds the fastest touch typing world record of 212 words per minute. While this speed might be a goal that's too much for most people, eReflect encourages new and advanced typists to try to improve their own words-per-minute record and enjoy the thrill of error-free, fast typing.
*********
For more details on Ultimate Typing™, please visit http://www.ultimatetyping.com/.
About Ultimate Typing™
Ultimate Typing™ software is designed specifically for the improvement of typing skills. Created by eReflect, a world leader in e-learning and self-development software, Ultimate Typing™ has been informed by the latest developments in the science of touch typing.
Since its creation in 2006 by Marc Slater, the company has already catered to over 112 countries all over the world, offering products with the latest cutting-edge technology, some of which are among the world's most recognized and awarded in the industry.