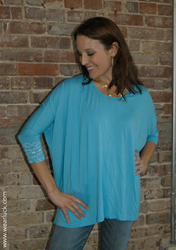 "As a mom of 2 children with special needs, I know we all need that go-to special thing that helps us through each challenge. I hope WEAR HOPE provides that strength" Michelle Hastings
Los Angeles, CA (PRWEB) February 23, 2014
Most cause-based clothing comes in the form of a t-shirt, however how we feel about the cause or condition is very soft and dear to our heart. Wear Luck is the first clothing line to give women strength as they care for someone with a special need or as they battle a medical condition themselves.
Unlike anything in a women's closet, Wear Luck continues to offer stylish tops with imprinted messages and symbols to gently remind or inspire hope and encouragement, with their new WEAR HOPE Bracelet Top. The bracelets on the right sleeve speak to you personally, "Have Hope", "Be Strong" and feature symbols of hope and strength that really give you a much needed boost.
To launch the new style, Wear Luck will be gifting these beautiful tops on Wednesday, February 26th at an Oscar Celebrity Party in Hollywood.