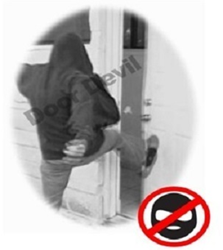 Most customers believe their doors are secure because they have a high-quality deadbolt.
Charlotte, NC (PRWEB) February 26, 2014
"Everyone needs it, but virtually no one has it." That was the clear conclusion drawn from a Door Devil poll of Professional Locksmiths at the North Carolina Locksmith Association's (NCLA) 2014 Trade show in Charlotte, NC when asked about doorframe reinforcement.
Home Security Poll
The 89 polled Locksmiths were asked (2) questions:
1) DO YOU AGREE or DISAGREE - even with a high quality deadbolt - a standard doorway would be defeated in 3 kicks or less without doorframe reinforcement?
100% (89 of 89) AGREED that – without reinforcement – a high quality deadbolt (alone) would not stop a kick-in attack.
2) Based on your professional experience, do MORE or LESS than 10% of homes have adequate doorframe reinforcement?
99% (88 of 89) answered "Less than 10%".
The results should be a wake-up call for homeowners since the conclusion was drawn from a pool of Professional Locksmiths who – day in and day out – are called upon to either prevent or repair the aftermath of burglaries. In addition and as members of the NCLA, these Locksmiths have committed to continuing education and can be considered the cream of the Locksmith crop.
The statistics clearly indicate that homeowners continue to remain unaware of the vulnerability that exists in their doorways. When residents hear of burglaries in their area, the phone starts ringing for local locksmiths. According to Triad Lock & Key's Steve Stanley, typically the first item customers ask for is a "better deadbolt". He added "I immediately let them know that the key to security is [not just the deadbolt, but also] reinforcing the doorframe."
George Fogle (Fogle Lock & Key) noted "many customers believe that their doors are secure because they have a high-quality deadbolt installed". However, the weak links in a standard doorway are the short screws and soft wood of the door jamb. Until they reinforce the doorframe "they are not maximizing their protection." Fogle Lock & Key is a firm believer in educating their customers in the fact that they need both a high-quality deadbolt and doorway reinforcement to properly secure their doors.
Based on the poll results, 89 out of 89 North Carolina Locksmiths agree with Steve and George. "The lack of doorframe reinforcement is like a (-1) in a mathematic equation" according to Door Devil owner Nick Fairless. "It doesn't matter how much you invest in your deadbolt - if you don't upgrade your doorframe - the result will be bad. Criminals can blow through the standard residential door in 1 or 2 kicks."
New Generation Door Security
The old "stand-by" method of doorframe reinforcement was to simply replace the (2) short factory screws in the existing deadbolt plate with longer screws. While this method will improve the strength of the doorway to a degree, the force of the kick remains focused on a very small section of the door. As a result, the doorframe is still extremely susceptible to failure in this area after a few strong kicks.
The new generation of door security products - such as the Door Devil - include a 48" steel striker plate. This longer striker plate diffuses the force of the kick across four feet of the doorframe which significantly increases the strength of the doorway.
Illustrating the growing emphasis on this topic in the Locksmith industry, The Society Of Professional Locksmiths (SOPL) – a leading National Locksmith Trade Organization – recently added "doorframe reinforcement" to its continuing education curriculum.
SOPL Founder Tom Lynch noted "SOPL prides itself on ensuring its members are trained and aware of the most current technology and security products. Our number one priority is to provide maximum security for our customers. Properly reinforcing the doorframe is critical to accomplishing that objective."
With products such as Door Devil, Door Jamb Armor and StrikeMaster, Locksmiths and homeowners now have a simple, affordable and – most importantly – effective new weapon to combat the #1 method of entry for burglars. As a result, bad guys can expect to encounter many more fortified doorframes in 2014.