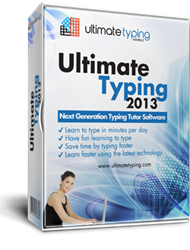 Typos are one of many human failings, and it's the rare person who can claim to have error-free typing skills.
New York City, NY (PRWEB) March 01, 2014
Nobody's immune to typos, and even those people who make sure to double-check their documents might find that a typo or two slips by them. Even in circumstances when editors and whole teams of proofreaders process everything to be published, it's not unknown for a newspaper or journal to find themselves in the headlines due to embarrassing misspellings. eReflect, the globally acclaimed software developer and designer of Ultimate Typing™, offers advice on how to avoid and locate typos and correct them before hitting the submit/publish button.
One of the tips shared with the Ultimate Typing™ blog readers is that simply improving basic typing skills can make documents significantly less typo-laden. People can improve their typing accuracy in a variety of ways, and with this increased skill can eliminate the need for going back over a document several times to check for typos. Proofreading is always essential, but advanced typing skills mean fewer typos, if any, to be troubled with. To improve typing eReflect suggests using a typing tutor or practicing with one of the many typing games that can be found on line.
On the other hand, careful proofreading is essential and the only way to make sure that all typos and other mistakes are eliminated from a document before it's published, as eReflect reminds readers. The company encourages typists of all ages and professions to always proofread their own work, even if they know an editor will be checking them afterwards. This will ensure the typist is aware of their most frequent typos and will take steps towards eliminating them in the first place.
Another piece of advice eReflect offers is addressed to everyone who uses computers for their communication and writing purposes. eReflect warns against relying blindly one pre-installed word processor spellcheckers to identify typos. Spellcheckers, although they're becoming increasingly more intuitive and smart, will miss errors caused when typos don't result in misspelled words, or cause any other problem with the grammar of a sentence, and they won't be flagged as errors. For instance, writing typos like "or" instead of "for" or the word "unclear" instead of "nuclear" won't be tracked by a spellchecker because these are only typos, not misspellings, and the mistyped word still makes sense as a word.
Typos are one of many human failings, and it's the rare person who can claim to have error-free typing skills. However, typing skills are essential to avoid document-related embarrassment. Often, a person's credibility and professionalism is judged by their writing skills. For that reason, rigorous proofreading is essential.
For more details on Ultimate Typing™ please visit http://www.ultimatetyping.com/.
About Ultimate Typing™
Ultimate Typing™ software is designed specifically for the improvement of typing skills. Created by eReflect, a world leader in e-learning and self-development software, Ultimate Typing™ has been informed by the latest developments in the science of touch typing.
Since its creation in 2006 by Marc Slater, the company has already catered to over 112 countries all over the world, offering products with the latest cutting-edge technology, some of which are among the world's most recognized and awarded in the industry.