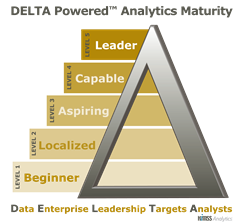 Burlington, VT (PRWEB) February 25, 2014
HIMSS Analytics announced today that Avnet Technology Solutions, the global IT solutions distribution leader and an operating group of Avnet, Inc., is the first Certified Educator of the DELTA-PoweredTM Analytics Assessment, currently available only in the U.S. and Canada.
As the first healthcare industry benchmark designed to measure and score analytical maturity, the DELTA-Powered Analytics Assessment gives healthcare provider organizations the ability to measure the strength of their analytics programs, benchmark relative to their peers, and provides insight into where an organization should focus to advance analytics capabilities and maturity.
As healthcare providers rapidly accumulate massive amounts of data and shift to value-based and accountable care models, it has created a need to leverage data to gain valuable clinical and business insights. "This is about more than simply collecting data," said Blain Newton, Sr. VP and COO, HIMSS Analytics. "It is about maximizing how that data is used. Healthcare providers must now shift their attention to managing and maturing their analytic capabilities. The DELTA-Powered Analytics Assessment helps them to focus their efforts on the areas that will produce the most benefit."
"Understanding healthcare organizations' maturity and capabilities related to analytics is critical before implementing any technology-based solution," said Patrick Stewart, Vice President and General Manager, IT Solutions, for Avnet Services in the Americas. "By becoming a Certified Educator of the DELTA-Powered Analytics Assessment, Avnet will be able to work with our solution provider community to structure long-term technology road maps and solutions that help healthcare organizations recognize the vital steps needed to take advantage of the data in their IT and clinical systems. Together, we will be able to assist healthcare organizations in evolving and increasing their analytics capabilities, enabling them to get the most value out of their analytics investments."
Organizations achieving HIMSS Analytics Certified Educator status must pass an annual certification exam and commit to an annual educator program. This ensures they stay current with trends within the assessment and are equipped with the necessary knowledge to help their clients advance through the various stages.
The HIMSS Analytics Certified Educator status complements Avnet's recently introduced Healthcare Analytics Platform. Available exclusively through Avnet's U.S. and Canadian partner community, the Avnet Healthcare Analytics Platform accelerates the integration of medical, operational and financial data from multiple IT and clinical systems to offer healthcare providers a single, unified and secure view of patient information. This platform enables healthcare providers to rapidly integrate systems across multiple operational and clinical areas such as cardiology, oncology, orthopedics, geriatrics and neurosciences. This integration of data and business analytics helps to create a cohesive view of a patient, regardless of where the data is stored within a healthcare provider's infrastructure.
Avnet will be showcasing and demonstrating the latest in healthcare IT solutions and services, including its Healthcare Analytics Platform, at the HIMSS14 Annual Conference and Exhibition. HIMSS14 will be held February 23-27, 2014, in Orlando, Fla., and Avnet will be in booth #1635.
For more information on the DELTA-Powered Analytics Assessment, visit http://www.himssanalytics.org/delta.
About HIMSS Analytics
HIMSS Analytics is a wholly owned not-for-profit subsidiary of the Healthcare Information and Management Systems Society. The company collects and analyzes healthcare data related to IT processes and environments, products, IS department composition and costs, IS department management metrics, healthcare trends and purchase-related decisions. HIMSS Analytics delivers high quality data and analytical expertise to healthcare delivery organizations, healthcare IT companies, state governments, financial companies, pharmaceutical companies, and consulting firms. Visit http://www.himssanalytics.org/about/ for more information.
About Avnet Technology Solutions
A global IT solutions distributor, Avnet Technology Solutions collaborates with its customers and suppliers to create and deliver services, software and hardware solutions that address their end-user customers' business needs locally and around the world. Avnet Technology Solutions is an operating group of Avnet, Inc. For more information, visit http://www.ats.avnet.com.
###