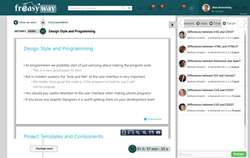 The platform is also available for professionals and citizens of the world who want to share knowledge at a worldwide scale... Support this initiative! Thank you for your attention.
Los Angeles (PRWEB) April 16, 2014
With the creation of Freasyway, it is clear that we now have access to the most complete and secured interactive teaching platform.
The Freasyway concept is simple, yet complete. Education professionals, i.e. countless High Schools, Universities, superior technical schools or independent teachers can share paid or free lessons on the Freasyway platform. The content is made accessible to all students or interested individuals. Commission fees are only charged when posting online paid lessons.
On top of content sharing, several additional services are offered. It includes: national and international classified ads referring to the educational field and that extends to areas of interest for students and teachers.
"Teach in real time" thanks to the advanced features of Freasyway virtual class, a complex system that allows teachers to connect with their students in real time. The virtual class module enables educational institutions, represented by a teacher or an administrator, to schedule teaching sessions and set the details of the educational content. Teachers will appreciate the possibility of recording their lessons for later broadcasting. Due to the implementation of functionalities such as video-conferencing for a maximum of 10 attendees, a whiteboard, screen sharing and content sharing, educational institutions take advantage of advanced collaboration tools in real time.
Besides the possibility to exchange documents and videos, Freasyway also provides a virtual educational library called "Box Reader" that grants users full access to various and numerous resources: manuals, homework sets, graduation tests, thesis, encyclopedias, dictionaries, etc.
Aiming at Quality Education
Quality is the element that has driven the development of all these tools. Quality for secured datas, user-friendly design, strict monitoring of teachers registered and of the contents submitted were all taken into account. The result is a fully integrated interactive platform that claims to be at the cutting-edge.
Freasyway is promised to a bright future. Success is already at the door with nearly 500 educational institutions, associations and independent teachers spread across above 20 countries and 4 continents (Argentina, Belgium, Canada, China, France, Germany, Russia, Spain, Switzerland, United Kingdom, The United States) that currently use Freasyway. The system clearly responds to the needs of educational institutions by offering an alternative and additional solution to the traditional system, as initially was intended and created by its founder.
Based on a strong collaboration with the MEET Organization, which promotes accessible education for every European, Freasyway was developed to offer a concrete and comprehensive solution to meet current challenges in terms of education at a national/ international level. With the support of SPECo Vaud Region of Leman (Switzerland), Freasyway will equally benefit from the expertise generously provided by University Corporate (San Diego, United States) and Thot Cursus (Québec, Canada), gained in their field of expertise.
Beyond the physical boundaries of Europe and the United States, the goal of Freasyway is also to develop educational systems in emerging countries, such as Africa or selected countries of South America or Asia, via new technologies. In order to achieve that, a large part from all profits generated by our system will be used for the creation of Learning Centers and a scholarship support fund.
Website access:
http://www.freasyway.com : For students, professionals and communities
http://edu.freasyway.com : Intranet educational institutions and independent teachers
Founder: interview & biography
https://freasyway.com/public/pages/founder-bio
https://freasyway.com/public/pages/founder-interview
Audrey Humbert
International Relations
================
Free Easy Way
Chemin de Beau-Val 22
CH-1012 Lausanne, Switzerland
E-mail: press(at)freasyway(dot)net
Suisse : +41 79 96 75 970
France : +33 6 77 32 62 92
Standard : +41 21 58 80 679
Fax: +33 48 28 39 805 / +41 21 58 80 676