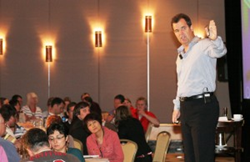 Many first home buyers are still being locked out of the property market because they don't have enough up-front cash to pay the deposit on a house.
(PRWEB) February 24, 2014
The Australian Bureau of Statistics revealed that the number of first home buyers in Victoria increased 3.1 percent last December, (News.domain.com.au reported on 12 February 2014).
Drew Wilson, an analyst for the Melbourne real estate market, said that the volume of first home buyers would continue to increase throughout 2014 despite rising real estate prices, as more home loans are being granted.
"While the number of first home buyers is increasing this year, their total number is still far less than before the Global Financial Crisis. Finding a way to attract first home buyers back into the Melbourne real estate market is crucial to secure the future of the region's real estate industry. However, if the construction of real estate Melbourne continues without a steady stream of people ready to occupy them, it will result in a surplus of supply with little to no demand, and this spells bad news for everyone," said Rick Otton, the host of this year's most sought after real estate seminar Ready, Set, Boom.
"Many first home buyers are still being locked out of the property market because they don't have enough up-front cash to pay the deposit on a house. This demographic used to rely on cheap home loans or grants from the government for some extra cash. But with less subsidies from the government, Aussies must now find a new way to get the start-up money to buy houses," he explained.
Mr. Otton then revealed in one of his interviews for Ready, Set, Boom that seller finance strategies can help increase the number of first home buyers in Melbourne further.
"If finding enough cash for a deposit is the biggest obstacle for first home buyers, then creative strategies can take care of this problem by eliminating the need to pay a large amount of cash deposit to buy houses. This becomes possible when buyers and sellers agree to enter into flexible payment terms like those used in the creative strategies I teach," he discussed.
To learn more information on seller financing, visit http://readysetboom.com.au/ and secure your free seats the Melbourne leg of Rick Otton's Ready, Set, Boom seminar tour on 1 March 2014.
About Rick Otton
For over 23 years property millionaire Rick Otton has built an impressive real estate portfolio using innovative strategies that he has developed – strategies in which transactions are made without the need for traditional bank-type loans.
He constantly refines his techniques as he buys and sells properties through his We Buy Houses business which operates in Australia, New Zealand and the UK.
A gifted speaker and educator, Mr. Otton conducts regular one-day free seminars across Australia, which build on the the concepts he shares in his 2012 book 'How To Buy A House For A Dollar', voted by Money Magazine and Dymocks Book stores as one of the Top 10 Most Popular Finance Titles for 2013.
He regularly records and publishes iTunes podcasts via his channel Creative Real Estate.
His innovative low-risk, high-reward approach to Australian real estate investing has been featured in a variety of television programs and magazines, including Today Tonight, Hot Property and Australian Property Investor.
To register for one of Mr. Otton's free Australian one day seminars visit ReadySetBoom.com.au or phone, in Australia, 1300 888 450.