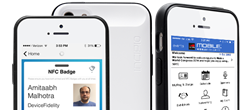 For the first time, iPhone users will be able to experience NFC first hand on a very large scale at an important industry event
Richardson, TX (PRWEB) February 24, 2014
DeviceFidelity, Inc, the world leader in plug and play mobile Near Field Communication (NFC) and security solutions, has partnered with Incipio and GSMA to bring the NFC Experience on the iPhone to Mobile World Congress 2014 in Barcelona.
Powered by DeviceFidelity's patented NFC technology platform, the sleek Incipio Cashwrap case will bring the NFC experience to iPhone users at Mobile World Congress 2014. Attendees will experience the iOS NFC experience absolutely free with Cashwrap NFC-enabled cases being given away to the first several thousand attendees carrying iPhone 5S, 5, 4S, or 4. Distribution points can be found across Fira Gran Via, including the Incipio Stand at CS100, Hall 1 Registration, and the North and South Entrances. The NFC-enabled cases will be provided while supplies last on a first-come, first-served basis. Once the Cashwrap case is attached to the iPhone, users can download and use the GSMA event app on their iPhones, allowing them to successfully use their NFC Badge and take part in many NFC activities, such as the Tap n'Go points and the NFC Beer O'clock giveaway.
"We're excited to have partnered with Incipio and GSMA to bring the interactive NFC experience to iPhone users at the Mobile World Congress," said Deepak Jain, Chairman and CEO of DeviceFidelity. "For the first time, iPhone users will be able to experience NFC first hand on a very large scale at an important industry event and we look forward to the opportunities to partner with providers across the globe who want to bring a similar experience to their end users."
DeviceFidelity team will also be available to discuss and demonstrate the latest offerings in NFC, including the world's first UICC SIM based NFC accessory for iPhone. This allows mobile network operators currently deploying SIM based NFC wallets on Android and Windows mobile platforms to expand the offering to iOS using the same security and wallet architecture.
The much-anticipated NFC mobile POS (point of sale) product from DeviceFidelity will also be available for demo to parties interested in launching a secure NFC payment acceptance solution. The mPOS builds on the NFC accessory architecture developed for iOS, and can be expanded to other platforms and OS. Experience first hand how easy it can be to convert your favorite iPad into a payment acceptance platform.
Contact DeviceFidelity at marketing(at)devicefidelity(dot)com to schedule a meeting at Mobile World Congress 2014 in Barcelona.