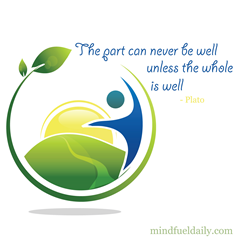 New York, NY (PRWEB) February 26, 2014
Online lifestyle magazine Mind Fuel Daily announced this week its redeveloped content platform – featuring essays, graphics and short form content on current trends in the fields of general wellness and yoga. Mind Fuel Daily's editorial team, guided by longtime natural wellness and yoga practitioners, hopes to create an approachable, practical hub for all things relating to individual mind-body health.
"Mind-body wellness is at the heart of everything we do at Mind Fuel Daily," explains the editor and founder, a personal health advocate. "We would hope that our new focus on wellness and yoga becomes the centering point from which all other things grow."
Mind Fuel Daily will publish articles covering: introductory topics like general nutrition tips and specific beginner yoga poses; in-depth profiles of notable wellness personalities; and advanced-to-expert yoga tutorials and techniques. Mind Fuel Daily will also publish regular features on the cultural legacy of different mind-body traditions – using a global perspective to examine ideas of "wellness" in different regions around the world.
"Healing and growing mind and body together has been a concern for thousands of years," says Mind Fuel Daily. "There is a rich history behind a lot of our modern wellness traditions, and we are using our unique life experience to explore and share this history with readers."
Mind Fuel Daily will also bring new voices in wellness and yoga to the front of its pages with published submissions from guest writers under the Mind Fuel Daily Guru Program – an opportunity for experienced students and practitioners to share their knowledge with an interactive, health-conscious community. Further information can be found under the "Write for Us" section on the Mind Fuel Daily website.
About Mind Fuel Daily:
Mind Fuel Daily is owned and co-managed by Cultural Elements + Buddha Groove, leading websites for cultural, spiritual, inspirational and natural wellness lifestyles.