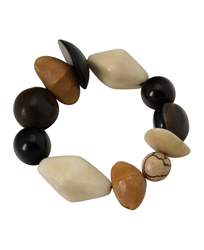 New York, NY (PRWEB) February 27, 2014
Cultural Elements announced this week the launch of its newest jewelry collection for 2014 featuring new designs from artists in Asia, India, South America, Africa and the U.S. New items include artisanal, fair trade, and handmade bracelets, necklaces and earrings influenced by various world cultures, traditions and symbols.
"We are ceaselessly inspired by world culture and diverse artistic traditions" say Cultural Elements' founders. "Our store is a celebration of those differences, and the entire collection is a fascinating study for anyone interested in the history and legacy of cultural jewelry."
Cultural Elements explained its commitment to fair trade practices, pointing to its South American collection of handmade necklaces and bracelets made solely from tagua nut – a beautifully organic, naturally replenishable material which allows local residents to create a living for themselves with harming a delicate ecosystem.
Cultural Elements also debuted new Tibetan jewelry and African jewelry collections – created to promote and celebrate the unique artistic traditions of two of the world's most unique cultural wellsprings. These handmade bracelets, pendants, necklaces and earrings are made with an array of naturally occurring metals, gemstones, and organic elements, infusing each item with regional identity and character – as no two pieces are created exactly alike.
Cultural Elements also introduced jewelry made by artists within the USA, featuring elegant designs in more traditional fine jewelry mediums such as sterling silver – while still drawing upon global icons such as the lotus flower, the yin yang, the tree of life, and many other cultural touchstones.
"We try to fuse fair trade, global identity with a homegrown sense of pride in the work from some of our great local artists," says Cultural Elements.
About Cultural Elements
Cultural Elements is an online store dedicated to creating and preserving a "culture-infused" lifestyle. Their collection of jewelry and gifts is inspired by history and cultural styles from across the globe, with an emphasis on hand crafted, artistic design.