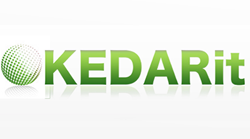 Dallas, Texas (PRWEB) February 24, 2014
KEDAR Information Technologies (KEDARit) Cost Optimization Service (COp-S™) SaaS-based Solution provides an easy-to-use IT Financial Management (ITFM) Solution with an easy to use interface, a sophisticated analytics engine, and a flexible reporting platform that provides a 360˚ view of IT services impact on strategic business units (SBUs) and the cost to provision their distinct IT services.
CIOs and business leaders are realizing a minimum of 65% reduction in hours spent gathering data, updating existing spreadsheets or creating new ones, and developing reports to communicate the value of IT services to SBUs. COp-S™ provides a single repository and consistent and measureable configuration of IT service costs apportioned to SBUs. Having this information easily accessible allows users to quickly evaluate and monetize the bottom line impact of IT budgets and investments.
COp-S™ delivers a SaaS-based solution that integrates traditional IT cost evaluation best practices such as Total Cost Ownership (TCO), Activity Based Costing (ABC), IT Service Management (ITSM), Service Portfolio Management, managerial cost accounting principles, along with standard and ad-hoc reporting capabilities.
"Now CIOs and IT leaders have the time and substantiating data to quickly create detailed "what-if" scenarios and assess the business relevant cost benefits," says Charles Williams, CEO of KEDARit. The COp-S™ Solution return-on-investment (ROI) proposition are allowing users to achieve a 300% and greater ROI in their first year. "We achieved a 465% first year ROI," said a large high-tech city government CIO.
Once customers are armed with the COp-S™ ITFM capabilities and service cost business intelligence, right-sizing IT spending becomes much easier. In the case of the city government CIO organization, they were able to reduce IT spending by $1,232,016 in the first year, boasts Charles. "They accomplished this by gaining consensus about the value and cost of existing SLAs with their SBUs. With consensus from the business, IT was then able to quickly right-size technology and people resources. Which significantly improved operating costs and the focus of resources on the provisioning and support of key SBU IT services," says Charles.
About KEDARit
KEDAR Information Technologies, a subsidiary of KEDAR Integration Services Inc., is the leading Software as a Service (SaaS) company that specializes in Cost Optimization and IT Financial Management (ITFM) solutions. The KEDARit team is on a mission, to provide easy to use and implement ITFM solutions that achieve enduring results for customers. KEDARit's "quick start" stand-alone offerings, called KEDARit Solutions (KITS), include the COp-S™ SaaS product, subject matter expert guidance and best practice training. Based in Dallas, Texas, KEDARit works with organizations across industries that include Energy, Healthcare, Government, Logistics, Higher Education, Business Services, and Financial Services. For more information about KEDARit and the solutions they offer, please visit: http://www.kedarit.com or call (972) 317-3577 today.