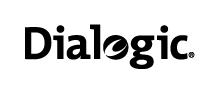 "If service providers want to keep up in the race for features and functionality, they can't afford to wait for service-creation capabilities to be baked into the next iteration of hardware," said Andrew Goldberg.
Parsippany, N.J. (PRWEB) February 24, 2014
Dialogic Inc., the Network Fue l® company, today announced that several partners will demonstrate the WebRTC capabilities of its PowerMedia™ XMS media server software during Mobile World Congress in Barcelona, Spain, February 24 through 27, reinforcing the power of real-time interactive video to capture the imagination of customers and elevate service provider revenues. Unisys, APEX Voice Communications, Quobis, Movirtu and Gintel will showcase capabilities including incoming and outgoing calls between a mobile phone and a WebRTC client, multi-party video conferencing and new service creation. The array of Dialogic-powered WebRTC demonstrations planned for Mobile World Congress illustrates the growing adoption of the protocol, which allows providers to deliver better customer experiences and to monetize new services.
Dialogic will also demonstrate its BorderNet™ Diameter Services Helix, which uniquely combines Diameter routing and edge agent security functionality within an intuitive and flexible service orchestration and interworking framework. Service providers demand this interworking capability to deliver ubiquitous coverage to keep pace with an ever-increasing number of smartphones, tablets and connected laptops.
Attendees at Mobile World Congress can view Dialogic's Diameter signaling and WebRTC demonstrations in Hall 6, Stand 6J28 and Hall 2, Stand 2K50, and can preview real-world WebRTC applications powered by Dialogic's PowerMedia XMS, including:

Unisys' Sponsored Services Suite applied to WebRTC using the Unisys Digital Dialog graphical tool to define visual interactive communications with users, allowing service providers and contact centers to configure and deliver targeted digital content via a variety of data and mobile channels (Hall 2, Stand 2EMR.B5).
APEX Voice Communications will demonstrate its ACCESS™ suite of cloud-based services (video/audio conferencing, network ACD, outbound telemarketing, network auto attendant, etc.) for MNOs to offer to their micro, small and medium enterprise market. Built on the OmniVox3D® Application Server, ACCESS uses WebRTC to mix browser-based participants with SIP soft-clients and streaming video (Hall 5, Stand 5K31).
Quobis' SIPPO Web Communicator is a complete unified communications client that provides multi-party video conferencing and interworking with SIP-based networks (Hall Congress Square, Stand CS60; Attendees can also view this demonstration in Dialogic's booths, Hall 2, Stand 2K50 and Hall 6, Stand 6J28).
Movirtu's CloudPhone allows mobile operators to offer calls over Wi-Fi, but using mobile numbers as the principal identity for communication from all connected devices including laptops and tablets, via a WebRTC-based mobile app, web client and Facebook app. This enables calls from multiple devices, calls when outside of coverage, a single device for work and personal use, 'call-me' buttons, collaboration, and more (Hall 7, Stand 7B67).
Gintel will demonstrate its Easy Virtual PaBX platform's ability to integrate mobile telephony with comprehensive hosted UC features that can also be accessed via the web using WebRTC (Telenor's booth: Hall 2, Stand 2L20).
Dialogic will showcase its award-winning WebRTC demo with examples of multi-party HD video conferencing, transcoding, interworking WebRTC with SIP clients, local recording with playback and media processing such as text insertion and overlays (Hall 2, Stand 2K50 and Hall 6, Stand 6J28).
"If service providers want to keep up in the race for features and functionality, they can't afford to wait for service-creation capabilities to be baked into the next iteration of hardware," said Andrew Goldberg, senior vice president of marketing and strategy for Dialogic. "Dialogic software is allowing service providers to move as quickly as app developers in the realms of WebRTC and Diameter to connect subscribers in the ways they want to connect with the media they crave."
Dialogic's PowerMedia XMS software media server enhances communications applications by offering mixing of media-rich communications, rapid integration into communications infrastructure, seamless transition to virtualization and cloud delivery, and comprehensive WebRTC support. By offering standards-based media control interfaces and management capabilities on an award-winning platform, PowerMedia XMS 2.1 enables carriers and developers to rapidly create and deploy telephony, conferencing and other value-added services.
With the BorderNet Diameter Services Helix demo, Dialogic will show examples of how mobile, Wi-Fi and IPX operators can give customers a seamless roaming experience, rapidly interwork and orchestrate Diameter and non-Diameter services, and enhance and extend policy and charging between networks. Benefits of the BorderNet Diameter Services Helix include: fast time-to-market and service acceleration with operational cost savings, improved customer satisfaction and retention while seamlessly extending services across disparate networks, and minimizing impact on service from Diameter routing mishaps.
About Dialogic
Dialogic, the Network Fuel® company, inspires the world's leading service providers and application developers to elevate the performance of media-rich communications across the most advanced networks. We boost the reliability of any-to-any network connections, supercharge the impact of applications and amplify the capacity of congested networks. Forty-eight of the world's top 50 mobile operators and nearly 3,000 application developers rely on Dialogic to redefine the possible and exceed user expectations. Follow us on Twitter @Dialogic.
For more information on Dialogic and communications solutions energized by our technology, visit http://www.dialogic.com and http://www.dialogic.com/showcase. Also, visit our social media newsroom for the latest news, videos and blog posts.
Dialogic, PowerMedia, BorderNet, and Network Fuel are either registered trademarks or trademarks of Dialogic Inc. or a subsidiary thereof ("Dialogic"). Other trademarks mentioned and/or marked herein belong to their respective owners.