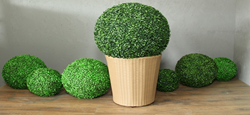 We are really excited about the 36" balls – those really make a statement.
San Marcos, California (PRWEB) February 25, 2014
Geranium Street Floral of San Marcos, California has recently received another large shipment of artificial boxwood balls. The company has 10", 16", 19", and super big 36" artificial boxwood balls available. Geranium Street's 36" boxwood balls are specialty items made when ordered. They add something unique to interior or exterior décor.
Karen Linden, a Geranium Street customer placed two 16" balls in planters near the entrance to her home. "I have had so many compliments from neighbors since I put the balls out there. Even the post man said something. And everybody thinks that they are real. I don't tell them the truth," Karen said laughing. She added that she had never seen the artificial boxwood balls in any store, but came across them on Geranium Street's Pinterest.
Bob Smith of Geranium Street Floral says that he stepped up his order of artificial balls after he got flooded with inquiries about them. "The demand is definitely out there. People are looking for something different, and I think the boxwood balls are that. We are really excited about the 36" balls – those really make a statement," Smith said.
Geranium Street Floral has other new products in their lineup, including hybrid living walls, which combine artificial boxwood hedge, and live California succulents. While part of the country is in a deep freeze, California is experiencing record high temperatures and a serious drought. People are looking for water wise alternatives for their landscaping.
Geranium Street Floral has also recently completed several big installation projects. They have done artificial boxwood privacy walls at two residences in the San Francisco area, and some commercial projects in Los Angeles, Palm Springs, Las Vegas, and San Diego. "We're having a record year, and it's because we have the product on hand," Geranium Street's Bob Smith said.