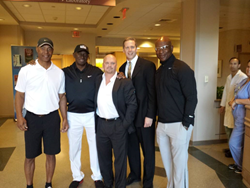 Phoenix, AZ (PRWEB) February 24, 2014
The Living Heart Foundation continued their HOPE Program Screenings at Mayo Clinic in Phoenix, AZ on February 22, 2014 with the added star power of Eric Dickerson, Marcus Allen and Roy Green. The event, sponsored by Pro Player Health Alliance and the NFLPA, was considered a huge success gathering over 53 NFL greats as well as ABC15, FOX10 and AZFamily news to cover the screening locally.
The overall health screening included blood pressure, lung age, body composition, ECG, cardiovascular risk detecting blood tests and obstructive sleep apnea screenings. The Apnea Risk Evaluation System by Watermark (ARES home sleep test unit) will be the sleep apnea screening unit used when medically indicated. Pro Player Health Alliance specifically provides education, awareness and healthy relationships with players regarding sleep disorders and therefore oversees the sleep apnea portion of the screening.
"More than two thirds of adult Americans are obese or overweight, representing a burden of approximately $160 billion annually to the healthcare system," noted Arthur J. Roberts, MD, retired cardiac surgeon, former NFL quarterback and Founder of the Living Heart Foundation. Not only is the NFLPA, Living Heart Foundation and Pro Player Health Alliance providing a way for players to become more aware of their own health, but the HOPE Program is in place to offer a way to improve in that aspect of their life while collecting data to use for research.
ABOUT LIVING HEART FOUNDATION
The Living Heart Foundation (LHF) is a nonprofit organization under IRS 501 (c) (3) code. The LHF was initially funded by a grant from the Edison Foundation. Subsequently, Funding sources and donations have been obtained from companies like Covidien, Pfizer, Meridian Health System, Siemens, Professional Athletes Foundation, and from individual sources. The LHF was established by Arthur J. Roberts, MD in April 2001 to combat sudden cardiac death and to provide cardiovascular risk stratification with early preventive intervention for cardiac, pulmonary, and metabolic conditions through on-site screening and integrated follow-up health programs. The LHF has published 10 peer review papers related to CV risk in college students & athletes, as well as former NFL athletes.
ABOUT THE NFL PLAYERS ASSOCIATION
The National Football League Players Association (NFLPA) is a non-profit, professional sports union that protects the best interests and welfare of all NFL players. Established in 1956, the NFLPA is governed by a Board of Player Representatives, acting in accordance with the NFLPA Constitution and federal labor laws. The NFLPA's responsibilities include: Representing all players in matters concerning wages, hours and working conditions and protecting their rights as professional football players; ensuring that the terms of the Collective Bargaining Agreement are met; negotiating and monitoring retirement and insurance benefits; providing other member services and activities; providing assistance to charitable and community organizations; enhancing and defending the image of players and their profession, on and off the field. For more information, visit http://www.NFLPlayers.com.
ABOUT PRO PLAYER HEALTH ALLIANCE
Pro Player Health Alliance (PPHA) is an organization dedicated to helping former NFL players, through providing testing and treatment options for those who suffer from sleep apnea. Since launching in April 2012, over 160 players have been treated through PPHA's "Tackle Sleep Apnea" campaign. Also, the PPHA is dedicated to integrating education and raising sleep apnea awareness, in a fun and memorable way. In addition to the campaign, PPHA is dedicated to testing and getting people who suffer from sleep apnea treated.
About David Gergen
As President of Pro Player Health Alliance, he has been a nationally respected dental lab technician for over 25 years. He received the award for "The Finest Orthodontic Technician in the Country" given by Columbus Dental in 1986. He also has been appointed chair of the dental wing of the American Sleep and Breathing Academy, a national interdisciplinary academy dedicated to sleep training and education with over 60,000 members. He has worked for some of the pioneers in the orthodontic and sleep dentistry fields. One of his proudest achievements is receiving The National Leadership award for Arizona Small Businessman of the Year in 2004.