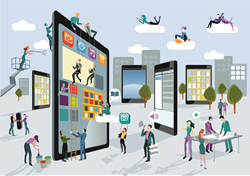 The 2020 Workplace book was recognized as one of the top 30 business books by Soundview, has been on the on bestseller list for 800 CEOREAD for three times
Oceanside, CA (PRWEB) February 23, 2014
Elearning! Media Group (EMG) announced today that Jeanne Meister will be the opening keynote for the Enterprise Learning! Summit Virtual event on March 20th, 2014. Jeanne Meister is a best selling author of three books, internationally recognized consultant and keynote speaker on the topic of the future of work. Jeanne's two previous books are on the topic of corporate universities and are entitled Corporate Universities: Lessons In Building A World-Class Workforce. Her latest book, entitled: The 2020 Workplace: How Innovative Companies Attract, Develop & Keep Tomorrow's Employees Today (Harper Collins, 12th printing), focuses on how organizations and individuals can prepare for the future workplace.
In this presentation, Jeanne will dive into how & why organizations are using collaboration platforms for sourcing, learning & engaging employees. Social has revolutionized the communication, networking and collaboration with friends and family. Finally, companies are catching on and leveraging collaboration platforms to increase knowledge sharing, peer-to-peer learning and finding expertise across the enterprise.
Jeanne will be joined by Kim Burgdorf, Director Leadership & Organizational Effectiveness of American Express Travel & Life Style Services to share a case study of using a social collaboration platform share information develop expertise for frontline travel professionals. All attendees will receive a summary of the American Express case study as a take-away from the session.
Elearning! Media Group (EMG) is pleased to announce that they will offer learning professionals a free virtual pass to hear Jeanne's keynote address. To register for the free pass, please go to http://engage.vevent.com/index.jsp?eid=630&seid=2330.
About Elearning! Media Group
Elearning! and Government Elearning! magazines, e-Magazines, E-newsletters, Alerts, Web sites and Summits are produced by B2B Media Company, LLC. Elearning! magazine is one in the family of 12 media products serving the $220 billion enterprise learning market. In combination, these brands reach up to 2 million executives and professionals who plan, evaluate and deploy enterprise-wide learning solutions across their organizations each year. To learn more, visit: http://www.2elearning.com.
Enterprise Learning! Events
In our seventh year, Enterprise Learning! Events bring onsite and online live audiences together to learn, network and share. Enterprise Learning! Summit 2014 hosts industry thought leaders, analysts and up to nine sessions, on March 20th, 2014. http://engage.vevent.com/index.jsp?eid=630&seid=2330. Mark your calendar for Enterprise Learning! Conference & Expo, the exclusive learning and workplace technology marketplace, August 25-27, 2014 in Anaheim, CA. http://www.elceshow.com.