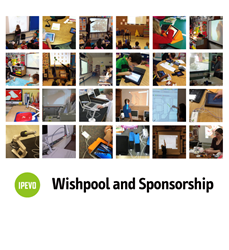 All of our partners and educators deserve our heartfelt thanks as well as our continued support in 2014 and beyond.
Sunnyvale, CA (PRWEB) February 25, 2014
2013 was a banner year for educational tech designer and manufacturer IPEVO, and the company has issued a special Thank-You to all of the individuals, schools and events which have partnered with IPEVO to bring educational tech to teachers and students worldwide. Together, IPEVO and its partners have helped to spread the company's core design principles, as embodied by a range of teaching tools available through IPEVO's flagship store at http://www.ipevo.com. Specifically, IPEVO advocates for tools which are simpler, easier to use, and less expensive than conventional, last-gen classroom tech.
"Last year was special in a lot of ways for IPEVO," said Royce Hong, CEO and big head of design for IPEVO. "But most importantly, we were fortunate to be able to interact with educators, students, and IT professionals who are truly committed to taking educational technology to the next level. Their practical knowledge and their enthusiasm have been essential in helping to improve our products and in sharing our mission of more affordable ed tech. All of our partners and educators deserve our heartfelt thanks as well as our continued support in 2014 and beyond."
Sponsorship of dedicated ed tech events have been an important part of IPEVO's outreach. In 2013, IPEVO sponsored eight events in the US, all of which receive Thank-You's. These include: EdCamp KC in Kansas City, MO; EdCamp Honolulu in Honolulu, HI; EdCamp Central Nebraska in Grand Island, NE; EdCamp Citrus in Crystal River, FL; EdCamp SFBay in San Mateo, CA; EdCamp Marin in Grand, NE; EdCamp Omaha in Omaha, NE; and EdCamp HowardWinn in Cresco, IA. IPEVO also sponsored three events in the UK: Greig City Academy in London; Derbyshire TeachMeet; and TeachMeet London.
Event sponsorship shows no signs of slowing in 2014, with IPEVO-sponsored EdCamp Liberty in Liberty, MO having taken place on January 11th. Sixteen other ed tech events sponsored by IPEVO are already scheduled in the US and UK. The full list as well as websites to the respective events can be found at http://www.ipevo.com/ipevo-sponsorship.
Another part of IPEVO's outreach is its popular Wishpool program. In Wishpool, teachers at accredited schools can share their classroom stories and "make a wish" for IPEVO technology. Chosen teachers are sent complimentary teaching tools. To date, Wishpool has received more than 3,300 wishes from educators in 854 schools spanning 6 nations and 44 states in the US. IPEVO's Wishpool team has fulfilled over 1,700 of these wishes. Wishes are accepted at no charge on an ongoing basis. Interested teachers can sign up at http://www.ipevo.com/wishpool. IPEVO has extended particular thanks to these "Wishpoolers" and other customers for increasing IPEVO's media exposure on platforms such as Twitter, Facebook, various blogs, and of course the Wishpool site itself where teachers can share their stories.
"If we were to narrow our mission down to a single overriding concern, it's to deliver the most affordable solution," said Mr. Hong. "We see classroom equipment like document cameras and whiteboards costing many thousands of dollars, and we envision how we can deliver the same experience for a fraction of that cost. We also use our knowledge of industrial design to make complicated technology easier to use and more intuitive. It all adds up to better, simpler, and more affordable teaching tech for everyone, not just for the select few."
About IPEVO
IPEVO designs and sells innovative products to enrich today's connected lifestyle. We recognize the immense potential of new technologies to help people create, teach, learn, and inspire. From classroom to living room to conference room, IPEVO is dedicated to making technology more available, accessible, and affordable for all.
For more information, visit http://www.ipevo.com.