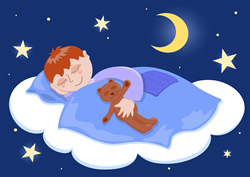 What drinks children consume, how their rooms are set up, and how many activities in which they particpate, can affect sleep.
New York, NY (PRWEB) February 25, 2014
Many parents don't realize that how their child goes about his day can affect night-time sleep. The drinks they consume, the amount and timing of activities, and the way their rooms are set up can have an influence on children's sleep. Parents may provide a soothing bedtime routine only to find that their children are still stimulated. What are these overlooked factors that are keeping children awake instead of drowsy?
Child sleep expert, Ancy Lewis, discusses what stimulates instead of soothes children when it is time to settle down for bed. She also offers information on natural ways to induce sleep in children, combatting those arousing effects. Consulting with a Sleep Coach can assist parents in finding the right individual solutions for their child.
Here is a preview of the "Sleep Stoppers" Ancy Lewis has identified:
1. Over-stimulating Rooms
Noisy mobiles, gadgets on the crib, and too many stuffed animals in the bed can lead to an over-stimulating room. It is recommended that infants should not have items in the crib as it poses a risk of Sudden Infant Death Syndrome (SIDS). Older children can become distracted with too many items in their crib or bed, promoting too much play and less sleep. Once your baby is old enough (some pediatricians recommend close to a year old), keep one safe "lovey" or stuffed animal in the bed or crib. Some parents have even noticed a reduction in night-time congestion with less stuffed animals in the bed.
2. Caffeine
Caffeine is not just found in coffee. Although there are smaller amounts in children's beverages, pay attention to how much caffeine your child consumes during the day. A little can add up. Limit your child's intake of foods with caffeine, and avoid it at least 3 hours before bedtime to promote a healthy sleep schedule.
Here are list of foods that contain caffeine:
· Chocolate (dark chocolate being higher in caffeine than milk chocolate)
· Soda (even some orange soda and root beer)
· Coffee flavored ice cream or frozen yogurt
· Some chewing gums
· Hot chocolate
· Chocolate milk
· Energy water.
To see the remaining "Sleep Stoppers" and learn about the "Sleep Inducers" check out Ancy's blog: http://www.sleepinglittledreamers.com/blog/.
About Sleeping Little Dreamers:
Sleeping Little Dreamers is devoted to providing Sleep Coaching services to parents of children ages 6 months to 6 years with sleep issues. Owned by a social worker, Sleeping Little Dreamers offers individualized sleep consultations that address the needs, values and parenting philosophies of each family. Sleep consultations can be done by phone with parents all over the world, or in person for those in the Westchester County, NY area. With the collaboration and support of Sleeping Little Dreamers, parents have either experienced vast improvements in their child's sleep or a complete resolution of sleep issues. For more information, please visit http://www.sleepinglittledreamers.com.