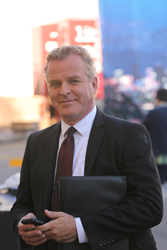 "I have been the wedding officiant for many TV and celebrity weddings but KTLA's professionalism and style make these two weddings standout."
Los Angeles, California (PRWEB) February 25, 2014
Chris Robinson, a popular Los Angeles wedding officiant also known as the Officiant Guy, had a big Valentine's Day week. He was chosen by KTLA News as the featured wedding officiant during their "KTLA Daily I Do" feature in which five lucky couples were selected to be married in an all-expenses paid ceremonies on the KTLA Sunset Blvd Studio Lot.
Robinson was asked to be the wedding officiant for the wedding ceremony for Lissa and Felipe on Tuesday and was chosen as the officiant for the big Valentine's Day same-sex wedding ceremony of Conchita and Lisa to climax the week of celebration.
On both dates, Jessica Holmes from the KTLA Morning News team was the enthusiastic emcee adding a lot of fun to the occasions while Wendy Burch helped everyone get into a celebratory mood. "I have been the wedding officiant for many TV and celebrity weddings but KTLA's professionalism and style make these two weddings standout," said the Los Angeles officiant.
Both weddings were beautifully coordinated by wedding planner, Kathleen Cover. Breathtaking flower arrangements were provided for the first and second wedding by Mille Fiore Floral Design and Missy Fine Events. The newlyweds celebrated their receptions at the Anaheim Whitehouse and Santa Monica's Casa del Mar before whisking to their luxury honeymoons at Santa Barbara's Bacara Resort and Spa and Carlsbad's Onmi Resort and Spa.
The KTLA wedding set was thoughtfully and uniquely decorated for both weddings. Robinson was impressed with the great charm and wonderfully inviting attitude of everyone he met at KTLA from the charismatic guard staff at the entry gate to the KTLA anchor team who all played a part in the celebratory send-off after each wedding.
The Officiant Guy was both moving and smooth as he delivered the nuptials. Of course, he was quite honored to be asked to preside over such special wedding ceremonies. In Chris's eyes, "Every wedding is a beautiful occasion but those that are televised are especially fun and unique. And KTLA really does it right."
About Chris Robinson
Chris Robinson is Officiant Guy, a lawyer, a wedding officiant and a specialized notary public who is authorized to issue LA County marriage licenses. He has officiated thousands of wedding ceremonies throughout Southern California. He can be found at OfficiantGuy.com