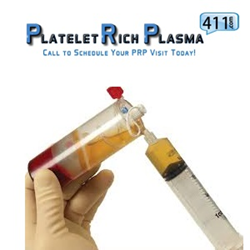 (PRWEB) February 23, 2014
Renowned as one of the country's first prolotherapy search-and-booking platforms, PRP411 has become one of the most distinguished medical sites known specifically for acknowledging PRP-involved medical practice locating. The PRP411 template was designed with the patient's best interest in mind, helping pain patients to find the nearest healthcare professional offering prolotherapy treatment. PRP411 prides itself on finding prominent, reputable doctors within the platelet-rich-plasma therapy field.
PRP411 features a history-rich section so that patients seeking this specific kind of treatment are able to gain a well-rounded perspective on platelet-rich-plasma therapy. Within the site, patients are brought to an extensive list of medical practitioners in their immediate location. Hawaii residents seeking a non-invasive wellness regimen are encouraged to visit PRP411 to treat a wide number of ailments and injuries.
With a rise in popularity amongst "Hollywood" athletes and celebrities alike, PRP411 has decidedly moved its services to the Aloha state recently. PRP411 is unique in that it offers an entirely non-invasive healing treatment for patients who have sustained notable injuries in the past. This regenerative treatment is a wonderful alternative to surgical procedures, and can work to relieve Hawaii patients of the chronic pain experienced after initial injuries or ailments occur.
Platelet-rich-plasma can help Hawaii pain patients to heal and substantially reduce the intensity of certain debilitating conditions. Patients can find solace knowing that PRP411.com is a compassionate entity that never stops working to match patients with healthcare professionals well suited for the most convenient prolotherapy treatment.
With PRP treatment, patients are given the freedom to relax and recover in the comfort and privacy of home. There is no obligation to remain in a hospital-based setting after the initial injection. At PRP411, the company fully understands why patients would want to get medical appointments over with as promptly as possible. Immediately following the non-invasive procedure, patients are able to go home, without having to deal with extended hours spent in the hospital. The beauty of platelet-rich plasma treatment is that is can take place in any Hawaii prolotherapy doctor's office as an out-patient process.
PRP411.com encourages patients to utilize platelet-rich plasma treatment for a pain free alternative solution to their injuries and ailments. The company urges PRP healthcare professionals to subscribe to the network and help treat an influx of patients in need.