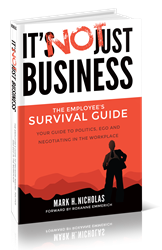 The book demystifies many of the most frustrating aspects of the business world.
Redondo Beach, CA (PRWEB) February 25, 2014
It's Not Just Business, the new book by attorney Mark Nicholas, helps navigate the complex political business world and the equally complex people in that world. It's Not Just Business is structured as a series of discussion of various important workplace topics offering in-the-trenches perspectives, often with a touch of humor and backed by a ton of research and experience, designed to inspire thought and action.
"There is no one-size-fits-all roadmap for success," explains Mark Nicholas. "We each show up with our own style, strengths and quirks and understanding ourselves and the way we are perceived is an important first step." Nicholas shares practical insights and real-world anecdotes to help readers embrace and ultimately turn the workplace dynamic to professional advantage. In summary, It's Not Just Business will help you:
· Recognize what motivates people
· Learn what people are really thinking
· Navigate social and business politics
· Develop negotiating skills and tactics
· Maintain balance and perspective
· And much more
The book demystifies many of the most frustrating aspects of the business world. In tackling intimidating subjects such as politics, negotiation and outright bad behavior, It's Not Just Business introduces the reader in practical terms to important topics, such as game theory, the Prisoner's Dilemma, forms of bias (including the important forms of bias: anchor bias, generalization bias and confirmation bias), cognitive dissonance, group dynamics, negotiating tactics, concepts of fairness and political maneuvering.
"This book is really about forgiveness; forgiveness of ourselves for our imperfections and the workplace for all of its lack of subtlety." Already embraced by business leaders, a few of the book's accolades include:
"...Nicholas has really captured not only the importance of knowing who we really are and facing up to that, but how... to be aware of our weaknesses and how to use these to our advantage... Read this book and be enlightened!

Lesley Everett - International Speaker and Best Selling Author of Drop Dead Brilliant
"M.H. has given people at all levels the final exam answer key for the school of hard-knocks."
– Roxanne Emmerich, Wall Street Journal Best Selling Author of Thank God It's Monday
"This is a book that makes you look at yourself, your colleagues, and the world of work with fresh eyes. It'll make you laugh out loud while you shake your head; but mostly it'll make you think."

Alan M. Webber, Founder of Fast Company Magazine and Best Selling Author of Rules of Thumb: 52 Truths For Winning at Business Without Losing Your Self
"Even in a world of rapid change, some things are unchanging. It will take a decade off your learning curve."
–Matthew Kelly, New York Times Best Selling Author of The Dream Manager...
"M.H.'s It's (Not) Just Business is a colorful look at the business of business. A light book about a serious matter, it's a highly entertaining read!"
Marshall Goldsmith - Million Selling Author of What Got You Here Won't Get You There
"This is a VERY powerful book. It should be required reading for anyone in the workplace. It's (Not) Just Business nailed it! My 18 year old son gets it next!"
– Jeff Evans, Entrepreneur
About the Author:
Mark Nicholas has practiced law within major corporations for more than 20 years and is the founder/CEO of Family Archival Solutions, Inc. and the National Will Registry. He has advised executives, managers and boards of directors on a wide variety of matters. Nicholas speaks regularly on a variety of business-related subjects, including on human behavior in business, business negotiating/politics, legal issues, matters related to privacy, advertising/marketing and social media issues. Mr. Nicholas attended Syracuse College of He is certified as a Senior Professional in Human Relations (SPHR). He is the author of The Essentials of Living Aboard a Boat (2004) (http://www.livingaboard.net), a best selling book in the boating genre for the past ten years. Nicholas currently resides in Los Angeles with his wife and 5-year-old daughter.
For more information, review copies and interview requests, please visit http://www.thebusinesspersona.com or contact Mark Nicholas at (310) 800-1999 (mhnicholas1(at)gmail(dot)com).