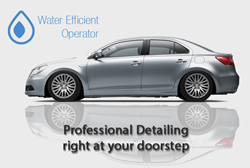 Many of our customers are local and we live in Redlands too so supporting the local community in any way we can is very important to us.
Brisbane, Queensland (PRWEB) February 24, 2014
Philip Coates established the Brisbane mobile car detailing specialists in 2010.
The experienced Brisbane car detailing team has soon grown to include four hard working members.
The mobile car detailers operate from a purpose built unit close to Philip's home in Thornlands, Brisbane.
The owner of the car detailing business was asked what makes Redlands different from other mobile car cleaning companies in Brisbane?
Phil answered, "We pride ourselves on service and offer excellent value. Many other car detailers in Brisbane charge far more than Redlands and often clean to a much lower standard."
Phil added, "Because of our hard work, consistency and flexibility Redlands mobile car wash is now the premier car detailing company in Brisbane."
"Many of our customers are local and we live in Redlands too so supporting the local community in any way we can is very important to us" explained Phil.
"We attend and support many charity events and sponsor our local rugby club" Phil added.
"Donating raffle prizes is one of the ways we contribute. These include gift vouchers for our car detailing services and these prove to be very popular with ticket buyers. Most recently we were involved with a local group raising money for their friend who had been recently diagnosed with MS" said Mr. Coates.
"The vouchers range from mini detailing all the way up to a full detailing service. The mini detail includes a complete interior vacuum, window cleaning, wash, wax, tyres cleaned and blackened and the interior deodorised. Because we are mobile we were able to visit the prize winners at their own address" said Philip.
"For first prizes we offer a voucher for our full detailing service (which is our premium detail) This cleaning service includes everything offered in the mini detail as well as complete interior clean. We thoroughly vacuum the whole interior and then deep clean shampoo the carpets and upholstery. The car looks brand new when we've finished" explained Phil.
Since Redlands started they have donated more than $1000 in vouchers to local charity organisations.
Phil's firm recently supported the Redlands Women's EXPO and the High Tea event which are focused on supporting women in local business.
The Women's EXPO fundraiser was held on September 21st 2013 at the Cleveland exhibition centre.
The car detailers offered a gift voucher for the main raffle, a deluxe car detail worth $250.
The High Tea Event was held in April 2011 where Redlands sponsored a table and provided a gift voucher for a deluxe detail.
Another charity close to Phil's heart has been fundraising for a friend with MS.
The determined group have so far raised more than $2000 through garage sales, sponsored walks and auctions.
Phil donated various gift vouchers to the events.
Philip is a keen rugby player and is heavily involved with the local rugby club the Southern Bay Cyclones.
The Brisbane car detailers have provided funds of $2000 to enable the club to flourish.
Money has been used to provide kits for each age group ranging from the under sixes all the way to the seniors.
Phil said, "It is (and continues to be) a burning desire of mine to support the local community and in particular Rugby Union. The sport has been my passion since playing for Bolton RUFC back in the UK".
"As Redlands cleaning and detailing continues to expand locally we hope to carry on contributing and increasing the amount we can donate to the local community," ended Mr. Coates.