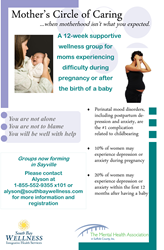 Sayville, NY (PRWEB) February 25, 2014
Research estimates that up to 20% of mothers will suffer from postpartum depression (including anxiety), and depression is the number one complication of pregnancy. It is not uncommon for mothers to experience difficulty during pregnancy or after the birth of a baby. Mother's sometimes find motherhood to not be what they expected, these mothers need help, and to know they are not alone. We can no longer stand by allowing moms to suffer needlessly.
The Mental Health Association in Suffolk County has teamed up with South Bay Wellness Center in Sayville to offer a new support group, Mothers Circle of Caring. The 12-week wellness group aims to offer pregnant and new mothers who are struggling with perinatal mood and anxiety disorders including postpartum depression, a place to come discuss their struggles, support one another and gain tools for coping.
"Perinatal mood disorders and postpartum depression respond so well to treatment – we want every woman to know they can and will feel better – and they deserve to have support," says Alyson Ryan. The group will be facilitated by Alyson Ryan, Licensed Clinical Social Worker and Co-Founder of South Bay Wellness and Debbie Rotunno, President of the Long Island Doula Association.
Alyson and Debbie come with years of experience working with pregnant and new moms and were trained by the Postpartum Resource Center of New York to facilitate the Mother's Circle of Caring group. "Too many of the moms we work with are suffering, I needed to become part of the solution to PPD rather than being a silent bystander," reports Debbie Rotunno.
Topics that will be covered during the group include: PPD 101, Postpartum International's steps to wellness, support systems, motherhood myths and realities, family support, friendships, stress management and self-care for moms. Groups are held at South Bay Wellness in Sayville.
This program is dedicated to help mothers get well, to support them, and show them that they are not alone, and they are not to blame. This is a FREE COMMUNITY PROGRAM. Please call 1-855-552-9355 ext 101 for additional information or to register. Also be sure to grab South Bay Wellness's free gift Kick Start Guide to Wellness on the website. Inside you will find additional information about tools you can use to facilitate overall wellness.