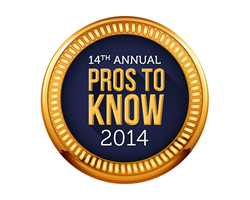 The current economic scenario calls for different strategies to generate the most value for businesses.
Dayton, OH (PRWEB) February 26, 2014
Supply & Demand Chain Executive magazine, an international B2B publication that provides mission-critical editorial to address the issues and challenges of the supply chain, today announced the names of its 2014 "Pros to Know" awards winners.
Honoring the supply chain's best and brightest, Supply & Demand Chain Executive's "Pros to Know" include professionals proactively working to improve their business's functions in a number of categories—including manufacturing and production output; procurement; logistics; risk mitigation strategies; sourcing; financial operations; packaging and distribution; transportation; and much more. The publication's editorial selection committee reviewed more than 300 entries this year to find the applicants that best fit the criteria.
One of those applicants to receive this award is Unni Vasudev, Vice President, Supply Chain Services of Corbus, LLC. Unni is a strong supply chain professional with an extreme passion for the sourcing and procurement arena. He has implemented a variety of Source-to-Pay (S2P) solutions for Corbus' multi-industry customers that have delivered value through quality, cost, delivery and compliance achievements. Corbus' clients seek Unni's counsel and expertise to implement the sourcing and procurement outsourcing models needed to advance their organizations.
Most impressive is that Mr. Vasudev is a back-to-back recipient, also receiving the award in 2013, an accomplishment in and of itself that is unique in the industry.
"I'm honored to receive this award for the second year in a row," states Vasudev. "The current economic scenario calls for different strategies, as well as organizational structures, to generate the most value for businesses. Companies need to focus on how to sustain the business today while positioning themselves for future growth. Innovation is a key player in this, and continuing to generate new solutions to address the challenges our clients are seeing, regardless of industry, is something Corbus, my team and I are proud of."
Now in its 14th year, the Supply & Demand Chain Executive Pros to Know Awards recognize supply chain executives and manufacturing and non-manufacturing enterprises who are leading initiatives to help prepare their companies' supply chains for the significant challenges of today's business climate. This year's list includes the 2014 Provider Pros to Know—individuals from software firms and service providers, consultancies or academia, who have helped their supply chain clients or the supply chain community at large prepare to meet these challenges—and Practitioner Pros, who do the same within their own companies.
The full list of 2014 "Pros to Know" awards winners is available at http://www.sdcexec.com. The expanded awards coverage and winners list will appear in the March 2014 issue of Supply & Demand Chain Executive magazine and online thereafter.
Corbus, LLC
Corbus, LLC, a minority owned, global solutions provider since 1994, offers differentiating services while combining years of experience, solid partnerships and adaptability to client needs. Corbus' solution offerings include Sourcing and Procurement, Business Process Management (BPM) and Information Technology (IT) services. With headquarters in Dayton, Ohio, our operations span the globe with execution team presence in N. America, Europe, India, and the Asia Pacific markets. These teams collaborate with our clients to create technology-enabled, revenue generating and cost effective solutions across diverse industries while leveraging our ability to work in true partnership with our clients to improve their business results. For more information, visit http://www.Corbus.com.
Corbus is a global organization, headquartered in North America with presence in Europe and Asia Pacific markets. Corbus is part of Soin International LLC, a private multi-national holding company that provides strategic management, administrative systems, and financial support to a diverse array of worldwide subsidiaries and affiliates.
Supply & Demand Chain Executive
Supply & Demand Chain Executive is the executive's user manual for successful supply and demand chain transformation, utilizing hard-hitting analysis, viewpoints and unbiased case studies to steer executives and supply management professionals through the complicated, yet critical, world of supply and demand chain enablement to gain competitive advantage. Visit us on the Web at http://www.SDCExec.com.