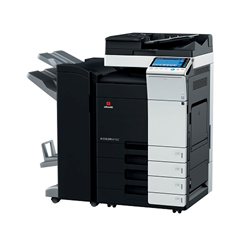 Another exciting addition to the D Color range is the scanning facility which allows the creation of Powerpoint slideshows using hard copy originals
Bolton, Lancashire (PRWEB) February 24, 2014
Managing Director John Hynes established Copy Print Services in 2006.
The Lancashire based Olivetti dealers operate from a well stocked unit in Farnworth which is just minutes from Bolton town centre.
The Olivetti photocopier specialists maintain, sell and refurbish most brands of photocopying machines.
The Olivetti stockists work mainly in the local area to enable their engineers to both react quickly and arrive at a customer's location promptly.
In addition, the Bolton company trade on a national basis using their extensive website to sell various consumables and accessories.
Olivetti photocopiers, Samsung printers and Olivetti toners are all featured and available to be purchased online.
The photocopier leasing firm employs thirteen staff.
The team includes four experienced engineers and will soon become five once new employee Dan Halloran completes his training.
As well as Copy Print offering a wide range of photocopiers for sale they also provide maintenance packages, refurbished machines and copiers for lease or hire.
The Bolton business provide complimentary maintenance packages with any new machine purchased and offer photocopiers for lease, rent or hire.
New products available from Copy Print Services Include the D Color range by Olivetti, models include the MF222, MF282, MF362, MF452 and MF552.
The high tech machines now print at 1200 dpi (dots per inch) and boast many new features including the ability to print on SRA3 (over size A3) and 300gsm card.
Another exciting addition to the D Color range is the scanning facility which allows the creation of Powerpoint slideshows using hard copy originals.
This means that it is now possible to hand write on to paper and use the scanner to create a Powerpoint presentation.
The new machines possess another clever feature which enables the user to create Microsoft Excel and Word Documents from hard copies alone.
If an existing Excel or Word file does not exist then it could be created by scanning a piece of paper and also edited if required.
John said "This is a brilliant feature! We have a customer who uses lots of technical manuals that need updating, previously this was done by hand but now he simply scans the hard copy, edits and produces an updated version."
"He is thrilled that this option is now available and it has saved so much time using the new scanner," he added.
"The Olivetti machines have always been our most popular copiers and with the addition of this new range has meant we have been able to sell and lease even more" said John.
"Many of our existing customers have upgraded to the new machines and are taking full advantage of the new time saving features. Due to the increased workload and new installations we've decided to expand the engineers team by employing apprentice Dan Halloran," explained Mr. Hynes.
"Dan has an IT background and is currently spending time with our engineers and learning the job from top to bottom. He will complete his training with Olivetti at Hemel Hampstead in April," said John.
"Once Dan has completed these two three day courses he will then take individual courses which cover the hardware for each particular model," he added.
Dan said "I'm delighted to join Copy Print Services as I've always been interested in printing and because of my IT background I believe I'll learn quickly. Being out with the engineers 'in the field' is my favourite part as I get to meet new people on a daily basis."