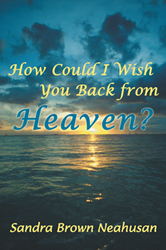 He shall cover thee with His feathers and under His wings shalt thou trust: His truth shall be thy shield and buckler. Psalm 91:4
Venice, FL (PRWEB) February 25, 2014
Grief after the loss of a loved one causes different reactions in people. One may experience sadness, devastating pain, relief (in the case of lingering illness, for example), or numbness in their grief recovery.
Tears and waves of loss come at unexpected times. Feelings that your heart is literally broken are common.
Anniversaries, birthdays, and holidays will never be the same. The calendar reminds us of our loss, but so do smells, favorite songs, revisiting of places shared. The hard edge of pain will go away but the loss itself will never disappear completely.
We would feel no pain if we had not loved the one we lost. It would be of no consequence to us.
Don't feel bad when funny things you experienced come to mind also. Laughing in joyful remembrance and crying in sadness at the same time balance each other.
Start a new tradition. It is not disrespectful to your loved one's memory to make a change.
Sandra hears from people every week who express their gratitude for her openness in sharing her grief experience. Her books are being shared all over the country. Many personal reviews can be found on the FaceBook page: Sandra Brown Neahusan Book.
She shares her experiences weekly in the GriefShare group she facilitates. Helping others work through their grief and sadness brings great joy and focus during her time of loss.
To listen to a radio interview conducted with Sandra by Ann Corcoran of radiosrq.com, please follow this link: http://radiosrq.com/?s=neahusan.
The book, "How Could I Wish You Back From Heaven?" is available on westbowpress.com, amazon.com, barnesandnoble.com and christianbook.com, and from the author.
About the Author:
Sandra Brown Neahusan is a graduate of Spring Arbor University. She has lead Ladies Bible Study groups and spoken at women's' church gatherings. At present she is facilitating a GriefShare Group at her church. She is available for speaking engagements to women's groups on grief recovery.