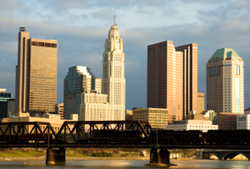 Columbus, OH (PRWEB) February 25, 2014
Etransmedia Technology, Inc acquires Medigistics, an Ohio based company which provides a range of Revenue Cycle Management and accounts receivable management services to the healthcare industry. This acquisition expands Etransmedia's reach as a leading national provider of healthcare IT and Revenue Cycle Management solutions. Etransmedia delivers a comprehensive package of solutions that automate processes, maximize cash flow and enable seamless communication to create a connected healthcare environment.
"The acquisition of Medigistics expands Etransmedia's reach into the Midwest market enhancing our leadership. We are commitment to delivering comprehensive Revenue Cycle Management solutions combined with game changing software to the healthcare community throughout the US. We are principally focused on solutions that will ensure clients can benefit from the cash flow generated by our faster turnaround times with a higher rate of return," said Vikram Agrawal, CEO of Etransmedia. We have additional acquisitions in the pipeline which we are working to close and hope to have an announcement soon," added Vikram.
Medigistics' expert team, and its office location in Columbus, Ohio, will continue to service the esteemed customer base, as well as to service the growing Etransmedia client base in the surrounding states.
Medigistics adds a solid base of high profile clients and further growth to Etransmedia's strategic RCM services business. Etransmedia is a larger-scale RCM services business (in the top 10 nationally) and positioned it's RCM services for accelerated growth as the physician market embraces more outsourcing to efficiently manage payment pressures and changes related to the adoption of ICD 10.
Etransmedia's additional products and services include connectivity and the Connect2Care software platform which includes an integrated EHR/PM, patient engagement and personal health record, health information exchange, and ACO tools that support financial, clinical, and quality of care reporting and analytics. This portfolio of proprietary software applications bundles a large array of functional components into a SaaS solution that can be delivered as a complete set, or as independent modules to leverage existing enterprise investments. Additionally, Etransmedia is working on several other exciting product and acquisition opportunities and is positioned for significant growth events in 2014.
About Medigistics:
Medigistics, an employee owned company based in Columbus, Ohio, is a full service multi-specialty medical revenue cycle management solution. We are expert at converting healthcare provider's hard work into revenue for their respective business. All services for our clients are performed by our employees in our office in Ohio. To learn more about how you can put our 52 years of experience to work for you contact us at 1-800-282-0738 or visit http://www.medigistics.net.
About Etransmedia
Since 2000, Etransmedia has developed and delivered integrated cloud-based software and services to hospitals, health systems, and physicians nationwide. Etransmedia's solutions include Revenue Cycle Management service, the Connect2Care software platform which includes an integrated EHR/PM, Financial Analytics, Care Coordination, and Patient Engagement. Etransmedia is committed to providing the right solutions to build an effective community of care, driving revenues and efficiencies for ambulatory, acute and diagnostic facilities, and increasing the availability of information to providers making critical care decisions. Etransmedia serves over 12,000 providers and 40,000 users. Etransmedia is the recipient of seven consecutive Inc. 500/5000 awards, and three consecutive Deloitte Technology Fast 500 Awards.