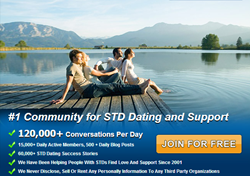 Los Angeles CA (PRWEB) February 26, 2014
Valentine's day is the most important day for people who are married or in love or who are ready to propose. Also it is one of the most expensive. Does the value of gift indicate how much one loves the other? PositiveSingles.com, which is the largest dating site for people who are living with herpes, hiv, hpv or other STDs to find love and happiness, surveyed 1,000 people on its site to figure out the cost on Valentine's Day and people's view about Valentine's Day. Among the 1,000 participants, half are females and half are males.
The result showed that about 70% males spent $150 on Valentine's Day. They said they were willing to buy flowers, chocolates, wine or other gifts for people whom they thought would possibly be their Mrs.Right. Most male members think true love is hard to find, especially for people like them who are living with STDs. And Valentine's Day is the best day to show their love. They enjoyed the moments when they were together with their partner on such a romantic day.
While females have a very different view on the Valentine's Day cost. The average cost of females is only half of the money male members cost, which is about $75. 90% female members among the 500 people said they really felt happy when they got a gift on Valentine's Day, but they did not think the money the male part spent on Valentine's Day for them can indicate how much they love them. Love has nothing to do with money. They care more about how much they love each other while not how much money they spent on each other on Valentine's Day.
It is true that every people is willing to receive a gift on Valentine's Day. But love is the most precious gift for every partner. Love is what people really want.
About PositiveSingles.com
As the largest and most trusted online dating site for people living with Herpes, HPV, HIV/AIDS, Hepatitis, Chlamydia, Gonorrhea, Syphilis and other STDs, PositiveSingles.com is completely anonymous and cares about members' privacy more than other sites. You are not required to submit any information that you are not comfortable with on this site. Whatever you are looking for Herpes dating, HPV dating, HIV AIDS dating, or any other STD dating, PositiveSingles.com is the best place.