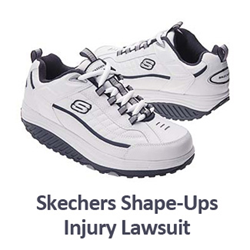 If you have been injured by Skechers Shape-Ups or Toning Shoes, Contact Wright & Schulte LLC for a FREE Skechers lawsuit consultation at 800-399-0795 or visit yourlegalhelp.com
Columbus, OH (PRWEB) February 24, 2014
Wright & Schulte LLC are currently representing hundreds of plaintiffs in Skechers lawsuits (MDL 2308) and has recently filed another Skechers complaint on behalf of a woman from Mississippi. This Skechers lawsuit claim (Case No. 3:13-cv-01246-TBR) is alleging that the plaintiff's use of the dangerously designed Shape-Ups toning shoes caused her to develop foot injuries that were so severe that she eventually had to undergo expensive and invasive surgery to correct the physical damage she suffered. This case, which was filed on December 30, 2013, joins the ongoing federal Skechers litigation in MDL 2308 in the U.S. District Court of the Western District of Kentucky, Louisville Division.
According court documents for this Skechers lawsuit claim, the plaintiff bought her Shape-Ups in January 2011 and regularly began wearing these shoes shortly thereafter. However, within months of wearing these shoes on a daily basis, the plaintiff reportedly began to experience severe pain in her right foot. The persistence of this foot pain led the plaintiff to seek an official diagnosis from her medical provider, who informed her that she was suffering from hallux valgus, hammer toe and claw toe deformity.
While the Skechers complaint explains that the plaintiff underwent a complicated surgery in June 2012 to try to treat her extensive foot injuries, it also states that the plaintiff is allegedly still suffering from foot pain and limited use of her right foot as a direct result of her Skechers injuries.
Additional Allegations in Skechers Lawsuit Claim
While this Skechers lawsuit (Case No. 3:13-cv-01246-TBR) alleges that the plaintiff's severe foot injuries were directly caused by the dangerous design of Shape-Ups, it also goes on to allege that the Skechers Corporation intentionally misled the public about the safety and health benefits associated with use of Shape-Ups. Specifically, this case has claimed that Skechers did not to adequately test the safety of its toning shoes prior to marketing them to the public and that company falsely claimed that use of Shape-Ups could help consumers get in shape without going to the gym.
Prior Skechers Lawsuit Settlement
As evidence of Skechers' alleged negligence, this case points to a substantial 2013 Skechers lawsuit settlement in which the Skechers Corporation reportedly was ordered to pay $40 million to resolve thousands of cases filed against the company. As with the case that has been filed on behalf of the Mississippi woman, these Skechers lawsuits all generally alleged that Skechers intentionally misrepresented the health benefits and safety of Shape-Ups in its ads for these toning shoes. A federal judge agreed with these allegations and, in May 2013, ordered Skechers to pay the $40 million settlement to the thousands of plaintiffs in this class-action Skechers lawsuit. [bigstory.ap.org/article/judge-oks-class-action-settlement-over-skechers, May 2013]
Visit our website or like our Facebook page for all the current Skechers lawsuit news.
About Wright & Schulte LLC
Wright & Schulte LLC, an experienced personal injury firm, is dedicated to the belief that America's legal system should work for the people. Every day, the attorneys of Wright & Schulte LLC stand up for the rights of people who have been injured or wronged by defective drugs and their side effects, complications from defective medical devices, and unsafe consumer products. We will fight tirelessly to ensure that even the world's most powerful corporations take responsibility for their actions. If you're looking for a law firm that will guarantee the aggressive and personal representation you deserve, please do not hesitate to contact Wright & Schulte LLC today. Free case evaluations are available through yourlegalhelp.com or by calling 1-800-399-0795.
Contact:
Wright & Schulte LLC
1-800-399-0795
http://www.yourlegalhelp.com