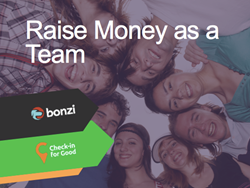 This partnership was constructed as a way to eliminate the hassle of raising money so that Bonzi clients can simply enjoy their sport.
Raleigh, NC (PRWEB) February 24, 2014
Check-in for Good, a cause marketing and fundraising application, announced today it will partner with Bonzi, an online management and registration software for youth and adult sports leagues. The integration of Check-in for Good to the Bonzi platform will give sports organizations a simple way to raise money digitally, along with valuable resources to jump-start their fundraising campaigns. Users will have the ability to set up a team page at checkinforgood.com/bonzi where they can collect donations through a widget on their team desktop and instantly share their campaign through their social networks.
"It is no secret that raising money can be an area of stress for organizations and the athletes who play organized sports," said Amy Pate CEO of Bonzi Technology. "As Bonzi continues to grow, we are constantly on the lookout for new and innovative technologies and services that help our clients remove barriers to participation and contribute to their success. This partnership with Check-in for Good is an important step in establishing a platform that serves the needs of the sports community, one of those being fundraising."
Amy Pate connected with Check-in for Good after continually receiving requests, from clients, for an easy donation collection system. The Check-in for Good fundraising platform serves as a digital donation tool at no cost to the user. Beginning today, Bonzi clients can create a campaign page, paste their campaign URL directly onto their private and public team sites in their Bonzi portal and use the platform as a way to drive donations.
"I have three boys who all play in organized sports leagues, so I know the financial responsibility that it requires to participate in these organizations," said Check-in for Good co-founder and CEO Rob Katz. "This partnership was constructed as a way to eliminate the hassle of raising money so that Bonzi clients can simply enjoy their sport."
About Check-in for Good:
Check-in for Good, http://www.checkinforgood.com, is an LLC, formed in October 2011. Our mission is to provide the most effective fundraising and awareness tool for causes and be a traffic driver and social marketing tool for retail business. The digital platform leverages the power of groups through emerging mobile, social and location-based technology. Check-in for Good operates out of Raleigh, N.C. Visit us on Twitter @checkinforgood.
About Bonzi:
Bonzi is a leading provider of technology and services for sports clubs, leagues and associations in the US and Canada. Serving 2 million users across all sports, our mission is to help our clients stand out in their communities and run great programs easily. You'll find more information about Bonzi at http://www.gobonzi.com.