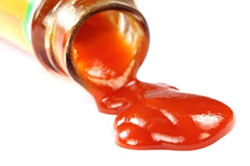 "Before creating a custom hot sauce label, it's important to think about the customer who will be buying the product," said AnneMarie Campbell, Business Development Manager at Lightning Labels.
Denver, CO (PRWEB) February 25, 2014
Lightning Labels, leader in printing custom labels and stickers, is helping brands stay on top of hot sauce labeling trends. When designing custom hot sauce labels, it's important to keep target consumers in mind. For instance, foodies and college students will be attracted to different types of labels.
"Before creating a custom hot sauce label, it's important to think about the customer who will be buying the product," said AnneMarie Campbell, Business Development Manager at Lightning Labels. "Are they hoping to liven up a bland meal with their hot sauces, or it is part of a gourmet experience? Considering this aspect of audience targeting will help companies create the right label for their products."
Be Smart About Targeted Hot Sauce Labeling:
With targeted hot sauce labeling, brands are more likely to reach the ideal customer. There are many different types of consumers who may be interested in unique companies. Some may be habitual hot sauce users who have a go-to brand for their morning eggs, while others may be more interested in seeking out artisanal companies for unique flavor-enhancing ingredients. For the informal diner, it may be more useful to emphasize basics, like the level of spiciness consumers can expect and maybe a few suggestions about what kinds of foods can be improved with a light dash of hot sauce. Hot sauce labels are typically red and orange to emphasize that the ingredients are hot. However, even casual hot sauce eaters can appreciate creative design. Using peppers or fire on the label is a good way to let consumers know what they're in for, but it's also a good idea to come up with a consistent brand image too.
Aim Custom Hot Sauce Stickers at Foodies:
Companies can also benefit from targeting custom hot sauce stickers at individuals who are especially interested in artisanal food, whether they are the type who frequently dines out, or the kind of shopper who spends hours preparing a home cooked meal. For this consumer group, brands should emphasize ingredients and flavors on the label. The contents of the bottle should be the central design element. Coming up with a minimalist look that highlights taste profiles, ingredients and food pairings is a good idea. It's also smart to note whether the hot sauce goes well with a particular ethnic cuisine. A greater focus on content doesn't have to be boring. With the right design, typeface and use of white space can create an elegant appearance.
Lightning Labels is offering 15 percent off new orders now extended through February 28, 2014, using promo code PRESDAY at checkout. Maximum discount is $1,000. Free ground shipping applies to orders placed online only and shipped within the U.S. and Canada. This offer is not valid on reorders and cannot be combined with any other offers or promotion. Visit Lightning Labels.com for more information or updated promotions.
About Lightning Labels:
Lightning Labels uses state-of-the-art printing technology to provide affordable, full-color custom labels and custom stickers of all shapes and sizes, and now offers a full line of custom packaging products. From small orders for individuals, to the bulk needs of big businesses, Lightning Labels is equipped to handle and fulfill sticker, label and product packaging projects of all types. Best of all, like the name implies, Lightning Labels provides a quick turnaround to every customers' labeling and product packaging needs. Uses for Lightning Labels' custom product labels and custom stickers include food packaging and organic food labels, wine and beverage labels, bath and body labels, and nutraceutical products, such as vitamins, essentials oils, and herbal remedies, as well as event stickers, adhesive window stickers and more. Lightning Labels strongly supports the development of environmentally friendly printing materials and carries EarthFirst PLA, a new kind of green label material made from corn instead of petroleum. While operating as a high-tech printer, Lighting Labels prides itself on its personalized customer service. Lightning Labels provides one stop shopping for all of your label and product packaging needs. For more information and to place orders online, visit LightningLabels.com. For the latest in packaging news and labeling promotional offers, find Lightning Labels on Twitter (@LightningLabels), Facebook, Pinterest, Google+ and LinkedIn.