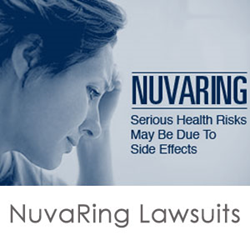 If you or someone you love suffered a blood clot, pulmonary embolism, deep vein thrombosis, heart attack, stroke or sudden death while using NuvaRing, visit yourlegalhelp.com, or call 1-800-399-0795
Columbus, OH (PRWEB) February 24, 2014
The attorneys at Wright & Schulte are currently representing numerous women in NuvaRing Lawsuits aMDL 1964. This newly filed NuvaRing complaint (Case No. 2:13-cv-00327-TSB) alleges that the use of NuvaRing caused the plaintiff to develop a serious pulmonary embolism, and that the defendants, Organon USA, Inc. and Merck & Co., Inc., marketed NuvaRing as a safe and effective form of contraception despite knowing about its significant risks of serious side effects.
According to court documents, the plaintiff started using NuvaRing in October 2007 "as a result of the claims of Defendants Organon regarding the effectiveness and safety of NuvaRing." After using this contraceptive for about 5 years, in December 2012, the plaintiff reportedly started to experience breathing problems, numbness in her left arm, palpitations and other symptoms; these complications led her to seek medical attention for an official diagnosis. At that time, the plaintiff underwent an angiogram and was, subsequently, told that she had pulmonary emobolus in her left lungs (i.e., blood clots lodged within the airways of her left lungs). The plaintiff was prescribed Coumadin and was hospitalized for two days. Following her release from the hospital, court documents explain that the plaintiff has had to continue anticoagulation therapy and attend regular follow-up doctor's appointments to monitor her health.
According to the complaint, NuvaRing was the first and only once-a-month vaginal birth control ring, and is touted as having the same efficacy as birth control pills or the patch in preventing pregnancy, but with more convenience. However, a growing body of research has found evidence that using NuvaRing can increase the risk that a young woman will suffer a serious blood clot compared to traditional birth control pills. According to a study published by the U.S. Food & Drug Administration (FDA) in 2011, NuvaRing raised the risk of blood clots by 56% when compared to older birth control pills. During the summer of 2012, two additional studies published in The New England Journal of Medicine and the British Medical Journal indicated that users of NuvaRing faced a higher risk of suffering dangerous blood clots, as well as heart attacks and strokes.
[fda.gov/Drugs/DrugSafety/ucm277346.htm, September 2011]
[bmj.com/content/344/bmj.e2990, May 2012]
[nejm.org/doi/full/10.1056/NEJMoa1111840?query=featured_home&&, June 2012]
Proposed $100M NuvaRing Settlement
With thousands of NuvaRing lawsuits currently pending in NuvaRing multidistrict litigation (In re NuvaRing Products Liability Litigation, MDL 1964), court documents reveal that Merck has recently proposed a settlement to try to resolve many of these NuvaRing cases before they head to trial. This offer, which was reportedly approved by Judge Brian Martinotti in February 2014, could resolve up to 3,800 NuvaRing lawsuits for a reported $100 million as long as at least 95 percent of the plaintiffs agree to accept the settlement offer. If, however, more than 5 percent of the plaintiffs turn down Merck's settlement, which, according to Bloomberg, has been estimated to work out to be roughly $58,000 per case, then Merck may withdrawal the offer, and these cases will reportedly continue to trial as scheduled.
[bloomberg.com/news/2014-02-07/merck-judge-says-company-to-pay-100-million-in-nuvaring-accord.html, February 2014]
About Wright & Schulte LLC
Wright & Schulte LLC, an experienced personal injury firm, is dedicated to the belief that America's legal system should work for the people. Every day, the attorneys of Wright & Schulte LLC stand up for the rights of people who have been injured or wronged and fight tirelessly to ensure that even the world's most powerful corporations take responsibility for their actions. If you're looking for a law firm that will guarantee the aggressive and personal representation you deserve, please do not hesitate to contact Wright & Schulte LLC today. Free case evaluations are available through yourlegalhelp.com or by calling 1-800-399-0795.