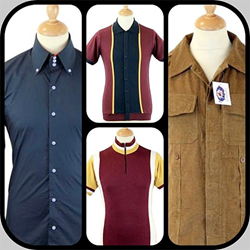 Retro clothing fans can now browse the latest range of Madcap England mod clothing on the Atom Retro website.
Scarborough, North Yorkshire (PRWEB UK) 26 February 2014
Retro clothing fans can now browse the latest range of Madcap England mod clothing on the Atom Retro website. The spring / summer 2014 collection has just arrived and includes a wide array of mod styles and indie clothing. The new collection features the mod clothing staple Hi Wheel Cycling Top and the classic Marriott Short Sleeve Polo in a range of new colours.
The new Madcap England range also boasts updated versions of retro classics like the High Collar Mod Shirt Whiskey Shirt and Roundhouse Penny Collar Shirt in new colours, as well as some new T-shirts and flares styles. Dedicated followers of mod fashion are invited to complete the look with authentic indie style accessories, satchels and belts.
"Our new range for spring see the continuation of customer favourites in new, on trend colours, bring timeless retro fashion and mod styles into the mainstream," says Alister Poulton, Head Buyer at Atom Retro.
The latest additions to the Madcap clothing range offer a fresh twist on popular mod and indie styles and are likely to appeal to those in search of an individual look inspired by fashion icons of the past, while continuing to reflect Atom Retro's focus on authentic, quality mod clothing.
Alister Poulton explains: "For us, Madcap is about bringing affordable 1960's and 1970's inspired garments to the contemporary era. The brand aims to bring unique, timeless styles, our own quality fabrics and a love of retro culture together to create something stylish that lasts."
Atom Retro established the Madcap England brand in 2007 to cater for mod and retro clothing enthusiasts. Madcap is named after the Syd Barrett 1970 album 'Madcap Laughs' and is worn by a number of mod indie bands including The Draytones, The Dukes Jetty and The Carnabys. Madcap England is most famous for classic mod racing jumpers and knitted polo cardigans but they also design and make men's shirts, knitwear, jackets and jeans as well as a select range of retro and sixties style dresses for women. The Madcap England team write about the latest retro fashion and mod style news on the Madcap England blog.
About Atom Retro
Atom Retro (http://www.atomretro.com) is a UK leading clothing retailer, boasting the largest range of authentic, high quality retro and mod clothing for men and women online. The Atom Retro range is inspired by the Carnaby Street boutiques of the sixties and includes an ever growing list of iconic brands and original, independent designers. Browse Atom Retro's extensive range of retro and mod clothing at http://www.atomretro.com.