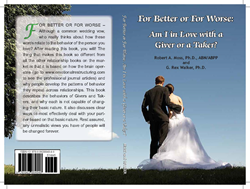 He discussed how the Bible is consistent with scientific facts, with an emphasis on relationship behavior patterns.
Greenville, South Carolina (PRWEB) February 26, 2014
Dr. Robert A. Moss was a featured guest on the February 24, 2014, Dove Broadcasting's Nite Line program. He discussed how the Bible is consistent with scientific facts, with an emphasis on relationship behavior patterns. The in-depth interview provided a basic understanding of Giver and Taker behavior patterns and how this relates to Biblical principles and personalities.
Dr. Moss has written two books, The Brain and the Bible and The Competition of Spirit, on how the brain model applies to Christianity. His most recent book, For Better or for Worse: Am I in Love with a Giver or a Taker, was written for all audiences on how the relationship behavior patterns manifest in marriages. He also authored a number of articles that were published in Rejoice Magazine when he was a regular contributor in 2010. Some of these and other original articles are available on his blog, as is information on all his books, at http://www.emotionalrestructuring.com.
In a professional article published last year, the Giver/Taker patterns were discussed in detail, including how the patterns logically develop based on brain organization. As explained in that article and another published in January, just as people learn their native spoken language in the left hemisphere, they also learn their native emotional language in the right cortex. In the same manner that one's spoken language remains for life, one's emotional language will always be present once it is learned.
References for the recent articles (available at the Emotional Restructuring website, as well as at researchgate.net and academia.edu on Dr. Moss' contribution page) are as follows:
Moss, R. A. (2013). Givers and takers: Clinical biopsychological perspectives on relationship behavior patterns. International Journal of Neuropsychotherapy, 1, 31-46. doi:10.12744/ijnpt.2013.0031-0046
Moss, R. A. (2014). Brain-based views on psychotherapy integration: Clinical biopsychology. New Therapist, 89, 6-15.
Dr. Moss is scheduled to do an hour workshop on the Clinical Biopsychology approach to psychotherapy at the April international meeting of the Christian Association for Psychological Studies in Atlanta. He and his students made presentations on this approach last year in Barcelona, Spain, at the international conference of the Society for the Exploration of Psychotherapy.
Dr. Moss is double board certified: in clinical psychology through the American Board of Professional Psychology and neuropsychology through the American Board of Professional Neuropsychology. He is the founding editor-in-chief for AIMS Neuroscience which is a theoretical journal scheduled to begin publishing in May. He has authored 48 professional articles and presented at numerous regional, national, and international conferences. He is currently employed at Bon Secours St. Francis Hospital in Greenville, SC.