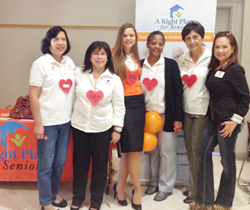 'I was most impressed with your organized approach, excitement and care for seniors and the program you arranged for the day. I welcome your involvement in our community in the future.' - Rev. Mark Strader
Temple City, CA (PRWEB) February 27, 2014
Organized by A Right Place for Seniors in cooperation with St. Luke's Church, the Heart For Seniors Health Fair was held at St. Luke's Parish Hall on February 21, 2014.
Among the major highlights of the event was the health screening that were provided for Seniors 55 years old and up. The sponsors of this were the American Heart Association, West Coast University, and SCAN Health Plan who provided the health screening.
Fr. Mark Strader of the St. Luke's Catholic Church Parish says "Thank you so much for the willingness to serve our senior population. I think it was a wonderful success and I look forward to the next opportunity!" He adds, "I was most impressed with your organized approach, excitement and care for seniors and the program you arranged for the day. I welcome your involvement in our community in the future."
The team behind A Right Place for Seniors would like to thank Saint Luke's Catholic Church, the event sponsors and vendors for coming together and making this occasion a success.
About A Right Place for Seniors
A Right Place for Seniors is a free Referral and Placement Services. They help families and their loved one find the right place for Senior Living, arrange for a tour, provide options to the family, give them choices, negotiate rates, provide resources, and more.
A Right Place for Seniors goal is to make senior care facility's search easy and stress-free. They specialize in Senior Placement in Assisted Living Facilities, Homecare Agencies, Nursing Homes and all other Senior Service Providers. For more information about A Right Place for Seniors, visit http://www.arightplace4seniors.com or call 1-800-804-3840.