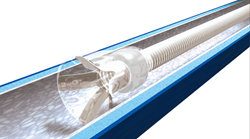 The addition of this AngioVac system is part of a more comprehensive cardiovascular program that enables us to provide high-quality, minimally invasive care as one of our cardiovascular offerings.
Williamsport, PA (PRWEB) February 24, 2014
Susquehanna Health (SH) Cardiothoracic Surgeon Dr. Michael Lazar combines the art of caring with the science of healing using an innovative technique and new technology that helps patients avoid sudden death due to blood clots in the arteries, heart and veins. This minimally invasive therapy uses the AngioVac Cannula to remove the undesirable intravascular material and offers patients an option over open heart surgery that reduces risk and recovery time.
Left undetected and untreated, blood clots can travel through arteries and veins to the lungs and other organs resulting in more life-threatening conditions including pulmonary embolism (PE) or heart attack. "When a patient has a pulmonary embolism, there is a risk of sudden death," explained Dr. Lazar. "Traditional options for treating such a patient are blood thinners or clot busters. However, when the clot is too large, it's major surgery."
Dr. Lazar and the Heart & Vascular Institute (HVI) team at Williamsport Regional Medical Center now use the AngioVac, developed by New York-based AngioDynamics, to remove blood clots in this state-of-the-art therapy. The procedure is performed in SH's hybrid operating room, which combines a traditional operating room with a cardiac catheterization lab. The AngioVac is a catheter-based system inserted by small incision into a vein in the neck or leg and guided by the surgeon using flouroscopic control (live x-rays). At the end of one of the cannulas (catheter) is a funnel-like tip that expands to collect the clot. When the system's pump is engaged, it acts as an intravascular vacuum that removes and collects the obstruction to restore blood flow. The patient's blood is filtered then recirculated through another cannula back into the patient's body.
Because this procedure is minimally invasive, patients are normally up and walking the next day and only require three days of hospitalization to regulate medication, according to Dr. Lazar. By comparison, open heart surgery typically requires five days of hospitalization followed by one month of recovery at home.
SH acquired the AngioVac in November 2013 in order to preserve the life of a patient who had a blood clot in the right atrium of the heart. According to Dr. Lazar, the patient would not have survived open heart surgery due to other health complications. Left untreated, the clot could have broken apart and traveled to the lung or developed deadly bacteria. Using this procedure, Dr. Lazar and the HVI team skillfully removed the clot and saved the life of the patient who hours earlier was in the ICU. The patient was ready for discharge to home only a few days later.
"This patient's case is a celebration of accomplishment," said SH Heart & Vascular Institute Executive Director Heather Haefner. "Dr. Lazar and his team achieved pioneering efforts by developing minimally invasive cardiac care not often available to patients in the community setting. This new treatment offers yet another unique capability in the care of complex conditions with excellent outcomes."
Although AngioVac is a new treatment option offered by SH, Dr. Lazar has been perfecting the procedure, performing nearly 12 cases in more than two years. "We've removed clots that were six inches long, that caused the heart to be straining and near failure," said Dr. Lazar. "This system works very well for the right patient and can be truly life saving."
Approved by the FDA in 2011, only eight Angiovac procedures had been performed worldwide when Dr. Lazar began using the system. He was the only surgeon using AngioVac during his tenure at Penn State Hershey Medical Center. SH is now one of two health systems in the region and one of eight in Pennsylvania to offer this new technique and technology to patients.
"The addition of this AngioVac system is part of a more comprehensive cardiovascular program that enables us to provide high-quality, minimally invasive care as one of our cardiovascular offerings," said Dr. Lazar. "A patient who faces a need for heart and vascular surgery should be able to choose a hospital that has great results, personalized care and a number of treatment options available."
For more information about heart disease prevention and treatment, visit SusquehannaHealth.org/Heart or call 570-321-2800. Additional information about Angiovac is available at Angiovac.com.