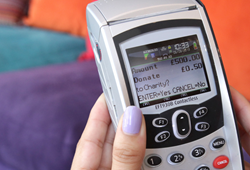 (PRWEB UK) 26 February 2014
Europe's premier health, sport and leisure group, David Lloyd Leisure, has rolled out Pennies, the electronic charity box, to raise money for Sport Relief 2014, which the group is supporting as Official Fitness Partner.
Members at the group's UK David Lloyd Clubs who pay by card in the DLicious cafebars now have the choice to round up their bill to the nearest pound for charity, while those using the clubs' Amida Spas can choose to give a set donation of 25p.
Card holders will be asked discreetly via the Chip & PIN terminal whether they would like to make a donation to charity, with 95 per cent going to Sport Relief, one of the UK's biggest fundraising events that brings the country together to get active, raise cash and change lives. The remaining 5 per cent goes to Pennies, a registered charity that distributes the funds and is dedicated to promoting micro-donations for charity to card shoppers.
David Lloyd Leisure's chief operating officer, Julie Porter, commented: "Small change can make a big difference, and we are delighted that our members and team members now have the opportunity to donate to Sport Relief in a quick, simple and discreet way, while using Pennies in our DLicious cafebars and Amida Spas. We look forward to raising vital funds for a great cause that helps so many disadvantaged people both at home in the UK and across the world."
Alison Hutchinson, chief executive of Pennies, said: "It is fantastic to see the roll-out of Pennies to the majority of David Lloyd Leisure clubs. We hope that members enjoying a meal, drink or spa experience will choose to make a donation that will go to a great cause. Card use is on the rise and we want to harness this growing power with Pennies, which enables consumers to make a real difference at the touch of a button in the same way that they've traditionally dropped coins into a charity collecting tin."
As the Official Fitness Partner for Sport Relief 2014, David Lloyd Leisure's 78 David Lloyd Clubs across the UK are hosting a series of fundraising initiatives to support the campaign, which culminates with the Sainsbury's Sport Relief Games, from March 21 to 23.
Among the events planned, David Lloyd Leisure will stage a Friends and Family Weekend across the clubs on March 15 and 16, featuring a range of fundraising activities for members and their guests – with the emphasis being on taking part and having fun!
ENDS
Note to editors: For further information about this press release, contact the David Lloyd Leisure press office on 01707 289833/4 or email press(at)davidlloyd(dot)co(dot)uk.
About David Lloyd Leisure Group
The David Lloyd Leisure Group operates 81 clubs in the UK and a further 10 clubs across Europe, plus the new high street concept, David Lloyd Studio, in Islington, Putney and Winchester. It has over 440,000 members and employs 6,000 people. This includes an expert health and fitness team of over 1,800, while it contracts the services of more than 400 tennis professionals. Across all clubs, David Lloyd Leisure has over 150 swimming pools (of which half are indoor) and offers over 10,000 exercise classes per week. Every week 20,000 children learn to swim at David Lloyd Leisure and 14,000 learn to play tennis. Its racquets facilities are unparalleled with 700 tennis courts as well as 180 badminton courts and 140 squash courts. Additional facilities include health and beauty spas, club lounges with free internet access, crèches, nurseries and specialist sports shops.
About Sport Relief
As one of the UK's biggest fundraising events, Sport Relief brings the entire nation together to get active, raise cash and change lives. Since 2002, Sport Relief has raised over £195million. The money raised by the public is spent by Comic Relief to help people living incredibly tough lives, both at home in the UK and across the world. From David Walliams' Thames swim to Eddie Izzard's 43 marathons in 51 days, Sport Relief has a unique history of brave celebrities taking on gruelling physical challenges to raise cash and change lives, and Sport Relief 2014 will be no exception.
Visit sportrelief.com to keep up with the latest news. Comic Relief is a UK charity, which aims to create a just world, free from poverty. The money raised by Comic Relief, through its fundraising campaigns Red Nose Day and Sport Relief as well as other initiatives, is spent at home in the UK and across the world to help people, families and whole communities stand on their own two feet.
Comic Relief is a registered charity 326568 (England/Wales); SC039730 (Scotland).
About Pennies
Pennies, the electronic charity box, makes giving to charity easy and affordable for all. We're all familiar with the idea of dropping our change into the charity box sitting on the shop counter. The electronic charity box is exactly the same idea but it works instead when we pay by card in store, online and via smartphones. Customers can simply press 'YES' on the Chip & PIN machine in-store, or click the 'Donate' button online or on the smart device. The request is for micro-donations – literally a few pennies (1p-99p) - either by rounding up or topping up. It's quick: one small step in the payment process, it's the consumers' choice and it's private too. There's no pressure or commitment to give and every penny goes to charity.
Micro-donations are powerful. There are 43 million card holders in the UK today, and around 1 million card transactions an hour. If the UK's card holders donated 30p once a month well over £150m would be raised for charity every year. Pennies is available in a range of national retailers as well as many local merchants and charity shops. For more information on Pennies please visit: http://www.pennies.org.uk
Pennies is a registered charity 1122489 (England/Wales).