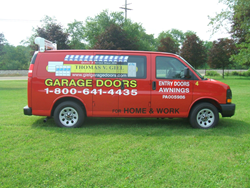 Gibsonia, PA (PRWEB) February 24, 2014
Thomas V. Giel Corporation, one of the area's most renowned distributors of leading residential and commercial garage doors, recently announced a new addition to its product line - Phantom Screens door, patio, and window shades. With an over 60 year commitment to customer service and fine products, the Thomas V. Giel Corporation believes that this new product offering is in keeping with their company's standards of providing their customers with an extensive variety of high quality, flexible, and affordable product options.
"The addition of Phantom Screens to our product line is a truly exciting new development in our company's continued growth," says Thomas V. Giel Corporation president, Edward Giel. "We are proud to be the only Phantom Screens exclusive dealer in Western Pennsylvania; and proud to be able to offer our customers versatile options to fit their needs."
The Phantom Screens line includes door, patio, and window solar shades and screens; products that allow homeowners to reduce sunlight exposure inside the home, thereby eliminating sun glare, protecting interior pieces from UV damage, significantly lowering internal temperatures, and reducing energy costs. These unique shades are offered in a variety of models, screens, and colors, and come with standard as well as custom frame colors and optional motors for easy, automatic lowering and raising of the shades. Additional Phantom Screens products offered through the Thomas V. Giel Corporation include an outdoor horizontal screen/shade system for sun protection and privacy, exterior retractable shades for skylights, pergolas, and glass roofs, and interior and exterior window shades.
"As a family company that has been in business for more than six decades, we have built strong relationships with our customers because they know that they can count on us to provide them access to the best products on the market," says Giel. "Phantom Screens is a fantastic brand and is in line with our company's commitment to excellence. We're proud to provide these exceptional shades and screens to our customers and we look forward to continuing to grow our company through these quality products."
Founded in 1950 and incorporated in 1974, Thomas V. Giel Corporation is a family owned and operated business that provides and installs high quality garage doors for residential and commercial customers, in addition to replacement windows, screens, solar shades, and awnings. As a renowned distributor of all leading garage door companies and the only Phantom Screens exclusive dealer in Western Pennsylvania, Thomas V. Giel Corporation continues to build on its reputation of excellence with superior products and exceptional customer service.
To learn more about the services of Thomas V. Giel Corporation, click here.