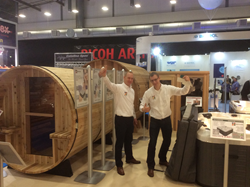 Spatex is a terrific show for us...and we set up new dealers every year.
Renick, WV (PRWEB) February 26, 2014
Almost Heaven Saunas, LLC, unveiled its deluxe two-room barrel sauna, an industry first, at the annual Spatex Pool and Spa show in Coventry, England this month. The Grandview XL is a 10-foot long (3.2 meter) sauna that combines a sauna room and changing room in one unit. This model is new for 2014, and is the largest sauna that the West Virginia-based company manufactures.
The Spatex, held this year at the Ricoh Arena in Coventry from February 2-4, is the leading UK pool and spa event, and this year drew a record number of exhibitors and leisure product buyers from around the world.
Almost Heaven Saunas were displayed in the booth of Passion Spas, its UK and European partner in the distribution of barrel saunas throughout Europe. Passion Spas, the largest manufacturer of spas in Europe, has been distributing Almost Heaven Saunas for more than seven years and has become the largest distributor of its saunas in the world. Almost Heaven Saunas has recently partnered with Passion Spas in the distribution of its European spas in the United States.
`A Terrific Show for Us'
"Spatex is a terrific show for us," said Almost Heaven Saunas president Rick Mouw. "We continue to see sales growth in this market and we set up new dealers every year." In fact, Mouw added, "the United Kingdom is one of the company's major international markets, second only to Europe itself, where we sell hundreds of saunas each year."
This marked the sixth consecutive year that Almost Heaven Saunas have been exhibited at the Spatex show, and the company continues to gain traction in the UK marketplace. Mouw noted that worldwide, Almost Heaven Saunas has doubled its sales since 2012.
Almost Heaven Saunas is one of the oldest and most respected sauna manufacturers in the world today. Founded more than 30 years ago, its saunas are still manufactured by hand at its mountain-based factory in Greenbrier County, West Virginia. Each board is personally inspected, each profile hand-milled, and every component individually assembled for an exceptionally high-quality sauna room.
Built in the tradition of a true Finnish sauna, Almost Heaven Saunas are enjoyed by people the world over, and the company enjoys a sterling reputation for quality and service. Its saunas carry a lifetime warranty.
Unique Barrel Design
The unique barrel shape of Almost Heaven Saunas delivers an extremely effective and efficient sauna experience. The barrel design minimizes square corners, and there are fewer cubic feet of interior air space to heat. That means the sauna room will heat faster than comparable square units, without compromising on usable space and seating comfort.
International buyers in particular appreciate the quality and function of Almost Heaven Saunas, and the European buyer particularly desires western Canadian red cedar, which is used exclusively in Almost Heaven Saunas.
Almost Heaven Saunas are distributed worldwide, with active distribution in the US, Canada, Ireland, United Kingdom, Israel, Netherlands, Russia, Belgium, and Switzerland. The company plans to exhibit for the first time in Moscow in March of this year.
`International Market Huge for Us'
"The international market is huge for us," Mouw reported. "People from Scandinavia, Eastern Europe, and Russia have enjoyed the traditional sauna experience for generations, and our solid wood saunas are particularly popular with the true sauna lovers of the world."
The Spatex Show featured the Grandview XL as well as several other Almost Heaven Sauna models, which were displayed at the booth of Passion Spas, its European partner. The company stocks hundreds of spas and saunas for immediate delivery from its distribution center in the Netherlands.