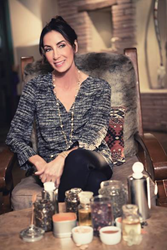 The new line joins Santa Fe healthy living with the purest, most powerful ingredients found in nature.
Santa Fe, NM (PRWEB) February 28, 2014
Artesian Beauty, a Santa Fe-based beauty company, announced today that it has acquired Eight Skincare and Purity of Elements. The two skincare brands will unite under the brand name Purity of Elements, set to re-launch in July 2014 as a 21-SKU face and body care product line. The newly re-launched collection will celebrate the elemental beauty of the company's Santa Fe, New Mexico home with a proprietary blend of oils and minerals.
"With the shared belief that purity drives performance, and product lines rooted in the purest elements harvested straight from the earth, it was only natural to join Eight Skincare with Purity of Elements to create a comprehensive line of head-to-toe skincare products," said Artesian Beauty CEO Tim Mettenbrink. "The new line joins Santa Fe healthy living with the purest, most powerful ingredients found in nature."
The company also announced today that industry veteran Sheri Poe has signed on as chief creative officer. A socially conscious entrepreneur, Poe founded Ryka, the first and only athletic shoe company for women, and later Purity of Elements, a carefully edited line of skincare products that harness the rejuvenating power of copper and other pure, elemental ingredients.
"After experiencing the Eight Skincare body treatment at the Hotel Santa Fe, I immediately saw the synergy between the body care line and the existing Purity of Elements facial skincare collection," said Poe. "I connected with the company to begin discussions about a possible collaboration, and almost instantly, we saw the value in merging the two lines to create a more complete portfolio. The new line will capture the best of both worlds to deliver unparalleled skincare benefits to women, marrying the best of nature with the latest scientific advancements for skin benefits at any age.
"Whether designing athletic shoes or skincare, I am passionate about giving women pure solutions to help them live their most beautiful, healthy life," Poe added.
Inspired by the natural wonders of the nation's oldest capital city, the new Purity of Elements will feature a collection of luxurious anti-aging products that nourishes the skin and body with ultimate pure elements. Inspired by Ingredients from Mother Nature, combined with advanced technologies means powerful results to counteract the impact of age, lifestyle and environment on the skin. The face collection features the unique and innovative benefits of Copper which will maximize the healing and restorative benefits featured in the proprietary Copper +7 Complex. Containing powerful anti-aging properties, copper also helps promote the synthesis of collagen to help turn back the clock on fine lines, wrinkles, sagging skin and loss of firmness. The Body collection features a luxurious, blend of nourishing essential oils and other natural ingredients – including aloe vera, argan oil, monoi oil, evening primrose oil, vitamin E oil, jojoba oil, avocado oil and apricot kernel oil – specifically formulated to restore and renew skin's natural balance.
Purity of Elements will focus its sales efforts on home shopping and in prestige shopping channels, as well as online. Ship-to-trade is projected for July 1, 2014. Product development and marketing is being managed by long-time industry expert Alisa Marie Beyer, founder and CEO of The Beauty Company. Artesian Beauty executives estimate first year sales at $5-8 million.