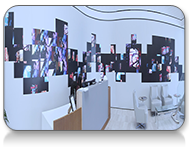 Gold Apex Award in the Professional and Personal Services Category
Cypress, CA (PRWEB) February 26, 2014
At the 2014 Digital Signage Expo, Christie® not only featured its latest digital signage solutions and Managed Services offerings but walked away with a DSE Apex award while several Christie partners, applying Christie products for their installations, commanded top honors in their respective categories.
Scotiabank, with Cineplex Digital Solutions and rp Visual Solutions, earned a Gold Apex award in the Professional and Personal Services category for its 43 foot by 5 foot, three-dimensional mural installation, consisting of 80 Christie® MicroTiles® at Scotiabank in Toronto's Yorkdale Shopping Centre. This installation is the first MicroTiles installation in the financial sector in Canada.
Arsenal Media won the Silver Content award in the Business, Industry and Government category, for the Christie Cypress Lobby content strategy development of the 64-megapixel, 50 foot-wide curved media wall that welcomes visitors, dealers and employees at the company's headquarters in California. The display solution of 108 Christie MicroTiles at native resolution projects presentations and educational training. Arsenal Media and rp Visual Solutions nominated Christie for a DSE Apex award for which it won Bronze.
Materials and Methods received a Gold Content award for the Interactive Art Video Wall at State Employee's Credit Union (SECU) in Raleigh N.C., which it produced and directed. Eighteen 55-inch Christie LCD flat panels were staggered at that site to exhibit animations and abstract art content created to engage and inspire visitors.
Kazakhstan Telecom/A+1 Productions, nominated by content provider Arsenal Media, received the Bronze Apex award in the Public Spaces category for its digital canvas of 100 Christie MicroTiles, real-time 3D content and interactive remote controller.
The DSE Apex awards honor innovation in the development and deployment of technology in the global digital out-of-home networks (DOOH) industry, while the DSE Content awards honor innovative and compelling content created for digital signage in the DOOH networks.
About Christie®
Christie Digital Systems USA, Inc. is a global visual technologies company and is a wholly-owned subsidiary of Ushio, Inc., Japan. Consistently setting the standards by being the first to market some of the world's most advanced projectors and complete system displays, Christie is recognized as one of the most innovative visual technology companies in the world. From retail displays to Hollywood, mission critical command centers to classrooms and training simulators, Christie display solutions and projectors capture the attention of audiences around the world with dynamic and stunning images.
-30-
Media contacts:
Carmen Robert
Christie
Cell: 519-572-5824
carmen.robert(at)christiedigital(dot)com
Mario Almonte
Herman & Almonte PR
212-616-1190, ext. 267
malmonte(at)herman-almontepr(dot)com
Follow Christie:
Facebook.com/christiedigital
Twitter.com/christiedigital
#christiedigital.com
"Christie" is a trademark of Christie Digital Systems USA, Inc., registered in the United States of America and certain other countries.
Christie® MicroTiles® is a registered trademark of Christie Digital Systems USA, Inc.