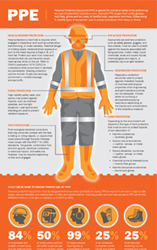 Infographics simplify complex data.
(PRWEB) February 25, 2014
The infographics are suitable for downloading and displaying in a warehouse, break room, or construction site trailer. To view the Personal Protection Equipment and Pipe Fitting infographics, click on http://www.graphicproducts.com/infographics. Users may also embed these images on their own websites.
As many of us know, Personal Protection Equipment (PPE) is worn to limit exposure to harmful substances or dangerous conditions. Daughtry's chart focuses on hearing, torso, eye, face, respiratory, hand, and foot protective gear. The chart's purpose is to remind supervisors and front line workers to use gear properly for maximum protection. With eye-opening statistics, and an explanation of the functions of each piece of gear, this chart is powerful, provocative and personal.
Isometric drawings are used by HVAC designers, engineers and contractors to show where pipes and valves need to be located prior to a building's construction. Critical to the design and manufacturing phases of a project as well as for installation, there are a broad range of fittings, welding symbols, valves and pipes typically encountered on the job.
The Pipe Fitting/Coordination Systems for Isometrics chart displays these fittings with clean, concise, easy-to-follow graphics.
Infographics simplify complex data. They're used by media including USA Today for snapshots of social, economic and geographic fluctuations, metropolitan area transit systems to help commuters navigate confusing subway lines and textbooks to accompany scientific data. What all have in common is impact, imagery and information – whether they incorporate tables, pie charts, diagrams, flow charts, graphs, drawings, unusual fonts, symbols or other design elements.
Graphic Products, Inc. continues to expand its resource library with:

Best practice guides on industrial topics such as lean manufacturing, hazardous label, workplace safety, food processing and confined space and OSHA safety
Short, instructional videos about visual communications for the mining industry, cable & wire marking, applying labels to oily surfaces and creating way-finding labels
Graphic Products carries a full family of labeling systems for every application and free technical support. Graphic Products DuraLabel printers are warrantied to be free from defects in materials or workmanship for a period of five years from the date of purchase.
Satisfied customers throughout the world include P&G, Amazon.com, Georgia-Pacific, Boeing, John Deere, Conoco, Sara Lee, Toyota and General Electric. Graphic Products is The Global Leader in Workplace Labeling & Signage.