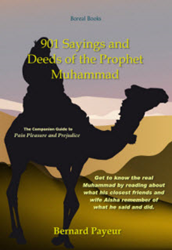 Ottawa, Ontario (PRWEB) February 26, 2014
You may know Boreal Books from its signature publication Pain, Pleasure and Prejudice. 901 Sayings and Deeds of the Prophet Muhammad is the companion to that ground breaking layperson's review of the entire Koran.
In the Foreword to 901 Sayings and Deeds..., the author, Bernard Payeur, reminds us of Al-Qaeda's credo as stated in the December 2000 edition of the Taliban's English-language magazine The Islamic Emirate.
"Any study beside that of the Quran is a distraction, except the Hadith and jurisprudence in the religion. Knowledge is what He narrated to us, and anything other than that is the whispering of the Satan."
If the Koran and the Hadith (the sayings and example of the Prophet) are all an Islamist needs to know, the author explains, isn't about time that you got acquainted with what they are all about. If you do not immerse yourself in what motivates your opponent and what informs his tactics and strategy, how can you hope to defeat him? It is you, whom he knows very well, who will be defeated.
One last caution from the author: "All 901 selected sayings and deeds of the Prophet are part of the Sunni cannon and are considered the truth and nothing but the truth. Perhaps nowhere else, as you will discover, is the truth so much stranger than fiction."
901 Sayings and Deeds of the Prophet Muhammad is available in both print and eBook format at Barnes & Noble, at Amazon websites worldwide and as an iBook at Apple's iBookstore.
http://www.borealbooks.ca
info(at)borealbooks(dot)ca