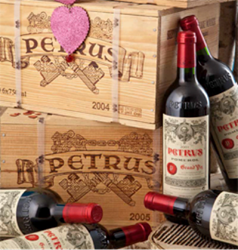 Collectors worldwide come to us in New York because they know they can buy the greatest wines made from any and every estate that stands at the top of their region. No one else does it like we do it in NYC," said John Kapon, CEO of Acker Merrall & Condit
New York, NY (PRWEB) February 25, 2014
Across the board demand by collectors for Burgundy, Bordeaux, Champagne, Italy, Spain and California wines, delivered a strong start to the 2014 NYC auction season at Acker Merrall. An auction room filled to capacity and an energetic crowd at the renowned Marea restaurant on February 22nd generated an estimated $3.4 million and 96% sold. DRC led the way with a case of the great 1999 DRC Assortment grabbing Top Lot honors at $39,520. Petrus saw unsurprisingly strong demand as well, with six of the sale's Top 10 Lots Petrus via the 1982, 2003, 2004 and 2005 vintages. Over 29% of winning bids and 31% of winning dollars went to international clients, with over 20% of winning bids being generated live online through Acker's new and improved AckerLive Online bidding platform, where clients can participate in real-time live over the internet.
"What a great auction! The action was intense from start to finish and a great way to start the year in fine wine fashion! DRC and Petrus will always grab the 'Top Lot' headlines, but the real story from today's auction is the amazing diversity that was on display, both from a wine and buyer standpoint. Collectors worldwide come to us in New York because they know they can buy the greatest wines made from any and every estate that stands at the top of their region. No one else does it like we do it in NYC," said John Kapon, CEO of Acker Merrall & Condit Companies. "When you see collectors from all over the world bidding just as energetically for wines from the Rhone, Champagne, Italy, Spain and California just as much as they are for Burgundy and Bordeaux, you know that it's an Acker Merrall New York auction, and the reason we have been hailed as 'the world's greatest selection of fine wine on a monthly basis.' We'll do exactly this again in our April 5th NYC auction, but next we're off to Hong Kong for our March 21-22 auction. Over 900 lots, over HK$35million of big-time Burgundy and Bordeaux will take center stage, as we go back to the classics."
The 100 new world records set on Saturday reinforced the Acker Merrall advantage. Burgundy remained the leader in the "gold medal" standings, setting 68 new world records from a diverse group of estates including Rousseau, DRC, Vogue, Fourrier, Jayer, Liger-Belair, Mugnier, Roumier, Ramonet, Leflaive, Lafon, Drouhin and Henri Boillot. Notably, almost one-third of these world records were for white Burgundies, as the demand for this category continues to grow. Notable producers whose wines also soared over the high estimates included Lafite, Mouton, Haut-Brion, Dujac, Leroy, Ponsot, d'Angerville, Roederer Cristal, Dom Perignon, Chave, Pegau, Giacosa, Giacomo Conterno, Gaja, Ornellaia, Vega Sicilia, Sine Qua Non, Schrader and Screaming Eagle.
"While Burgundy continues to be the belle of the ball, we saw Italy, Champagne, the Rhone and California all exceed expectations this weekend, especially Italy thanks to one incredibly diverse and exciting featured collection." continued Kapon. "Older Bordeaux continued its Renaissance. While high prices have killed the entire new release market for Bordeaux, the smartest connoisseurs are returning to wines ten years and older, many of which remain undervalued accordingly."
Acker Merrall's next New York auction will be April 5th at Marea in New York City, while Acker Asia's next Hong Kong auction will precede it on March 21st-22nd at Grissini at the Grand Hyatt. Later this week the catalog can be downloaded at http://www.ackerwines.com.