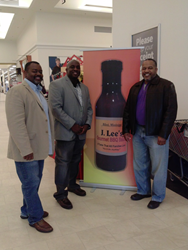 I don't normally like barbeque sauce but I love that taste.
Biloxi, MS (PRWEB) February 25, 2014
Rouses Supermarkets on the Mississippi Gulf Coast recently opened its doors to J. Lee's Gourmet BBQ Sauce. The supermarkets in Diamondhead, Longbeach, Gulfport, and Ocean Springs, Mississippi now carry the fastest growing barbeque sauce in the nation. Since the sauce hit the stores, The Sauce Team conducted its second promotional visit to allow customers the opportunity to taste the unique product. J. Lee's is not a typical barbeque sauce. It can be used for much more than the occasional cookout. Customers boast about using J. Lee's on baked meats, Asian cuisine, pasta dishes, etc. The sauce carries the words "Put It On Anything" on the label and repeat customers in the Rouses supermarkets testified to doing just that.
The Sauce Team (TST) led by the sauce founder, James Lee (J. Lee); Sales and Marketing Director, Ashante Vereen; and the Public Affairs Representative, Curtis Jennings, conducted promotional demonstrations in each of the four stores over several consecutive days in early February. The sauce sold rapidly as the customers were caught off guard by the taste of J. Lee's. Customers said, "I don't normally like barbeque sauce but I love that taste". 336 Bottles were sold in 15 total hours. Customers were delighted to taste the product and several requested J. Lees' (James Lee) autograph on their bottle. Many customers could be heard saying, "It's not every day you see the founder of a product in the grocery store promoting it themselves". The statement on the bottle "A Taste All Families Love" could not have been more evident as children who normally don't eat any type of sauce, asked their parents if they could have a second sample.
TST (The Sauce Team) will be holding tastings at the four stores throughout the remainder of the year. The team looks forward to the doors of opportunity opening for J. Lee's Gourmet BBQ Sauce to be added to the other 39 Rouses in Louisiana currently open and the four new stores slated to open in 2014 in Mobile, Alabama and the surrounding area.